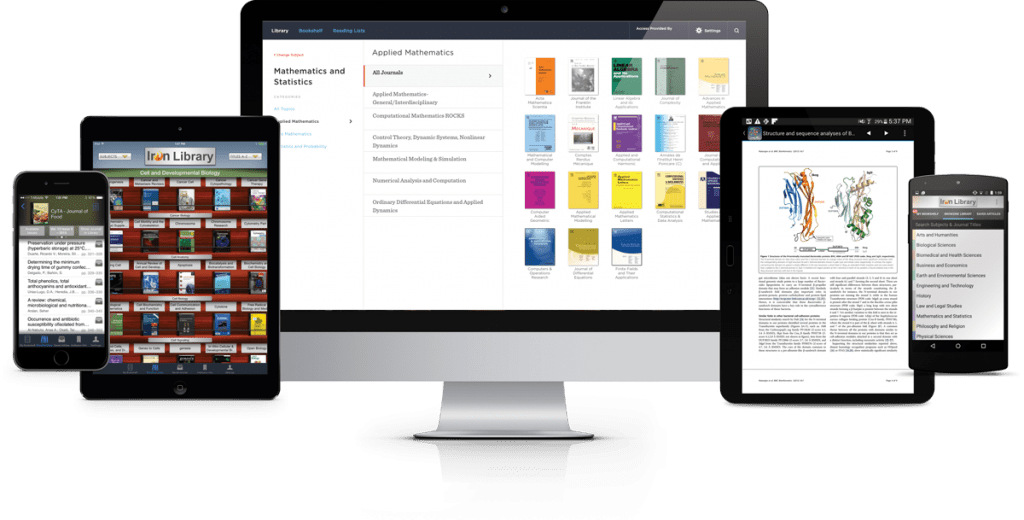 BrowZine is a library-subscribed resource that makes it easier to read your favorite scholarly journal articles. Almost all the scholarly journals subscribed by the Libraries are available in BrowZine.  Think of it as your virtual newsstand for scholarly journals. You can watch a 3-minute video to know more: https://vimeo.com/52663192
BrowZine started as a mobile app, but now its web version has just become available. You can use both of versions or just one.
If you already have BrowZine on your mobile devices and have used the My Bookshelf feature, you will be prompted to create an account to log in. If you have not used the My Bookshelf feature, you will not notice anything different. See below if you also want to start using the desktop version.
For those who are new to BrowZine, below are the steps to get started on your mobile devices and your desktops. Questions? Comments? Email us at lib-hardin@uiowa.edu or call (319) 335-9151.
On Mobile Devices—
Search BrowZine in the app store on iPhone, iPad, Android, or Kindle. Download and install the app.
When prompted, search and select "University of Iowa".
Log in with your HawkID and password. You only have to do this once.
Now you can search for the journal of your interest or just browse.
When you try to add a journal to My Bookshelf for the first time, you'll be prompted to create a BrowZine account to log in. Having a BrowZine account will allow seamless synchronization of My Bookshelf across all devices and the web version. BrowZine provides a brief guide to the new syncing function: http://support.thirdiron.com/knowledgebase/articles/855504-my-bookshelf-and-browzine-account-faq
On Desktops—
Go to the Health Sciences E-Resources A-Z list at http://www.lib.uiowa.edu/hardin/eresources and click on the link to BrowZine.
If you are off-campus, you will be prompted for your Hawk ID and password.
Now you can search for the journal of your interest or just browse.
When you try to add a journal to My Bookshelf for the first time, you'll be prompted to create a BrowZine account to log in. Having a BrowZine account will allow seamless synchronization of My Bookshelf across all devices and the web version. BrowZine provides a brief guide to the new syncing function: http://support.thirdiron.com/knowledgebase/articles/855504-my-bookshelf-and-browzine-account-faq