My NCBI is going to be getting a little bit of a make-over in the near future. If you are not familiar with My NCBI, it is most known for being a tool that allows you to save searches, set auto-alerts in PubMed, and manages your "My Bibliography" (which is used for managing your personal publications and NIH grant funding).  There are quite a few changes coming, but we'll just focus on the ones that are most noticeable.
My NCBI Homepage
At this time, it's not always easy to see what is available in My NCBI, but coming soon, the main page will be streamlined so that most features can be accessed from the main page. From the preview, it appears that the options will be laid out in titled boxes such as: My Bibliography, Filters, Saved Searches, etc.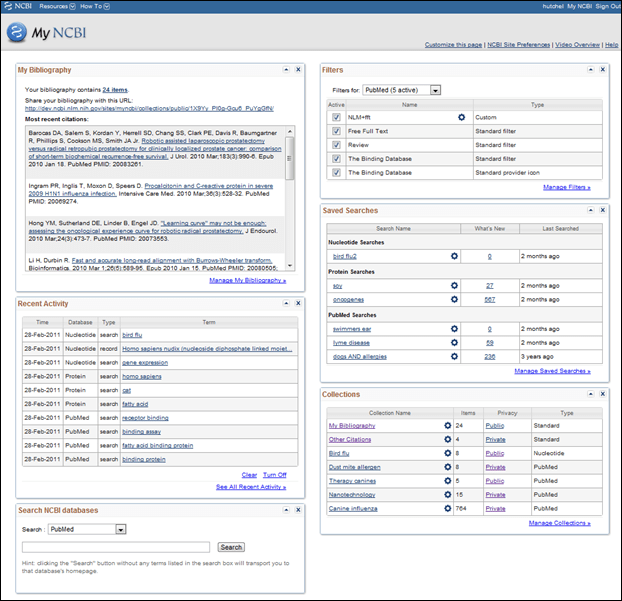 Saved Searches
With the new Saved Searches box, you can set up an auto-alert if you want to receive an email when new research is published, or you can create a permanent saved search.  Within MyNCBI, there will be a table set up to show you when you last ran a search, how many new citations have become available since then, and a link that lets you go directly to the new stuff.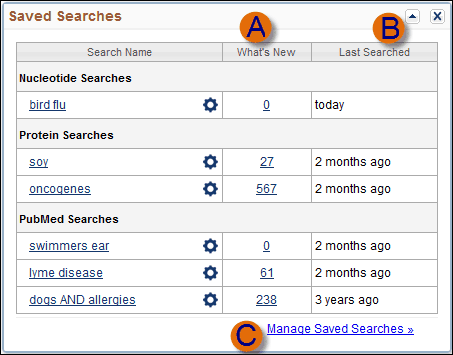 My Bibliography
This is the area of My NCBI can be used to create a list of the articles that you have personally published. This list can be private or shared with others, and now, you can designate someone other than yourself to add and make changes to this part of your account without giving them your personal login information.  You also have more options for how you would like to display and share these citations. One display option lets you link your account with the eRA commons and see whether or not your articles are in compliance with the NIH Public Access Policy.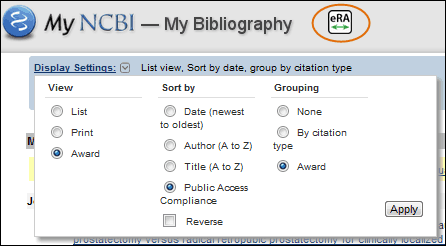 If you would like to know more about these changes and the many others that are coming to My NCBI, check out the NLM Technical Bulletin: My NCBI Redesign.
As always, if you have any questions about using My NCBI, PubMed or other library resources, contact us. We're happy to help.