Pictures of Nursing: The Zwerdling Postcard Collection is now on exhibit at Hardin Library.  The exhibit explores a 2,588 postcard archive spanning over 100 years.  Images of nursing and the nursing profession around the world have been frequent subjects of postcards.
Postcards are influenced by popular ideas and social and culture life, as well as fashion. These images of nurses and nursing are informed by cultural values; ideas about women, men, and work; and attitudes toward class, race, and national differences. By documenting the relationship of nursing to significant forces in 20th-century life, such as war and disease, these postcards reveal how nursing was seen during those times.
500 additional postcards may be viewed online.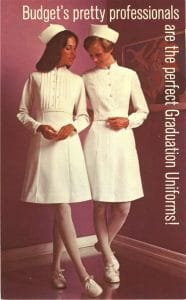 This exhibition was developed and produced by the National Library of Medicine, National Institutes of Health.