The University of Iowa Libraries' Main Library Gallery is now seeking exhibition proposals for Fall 2023, Spring 2024, and Fall 2024. University of Iowa faculty and staff are invited to submit statements of interest between May 28 and July 16, 2021. Proposals from across campus are welcome. Read on to learn more about curating exhibitions in the Main Library Gallery and to find a link to the submission form.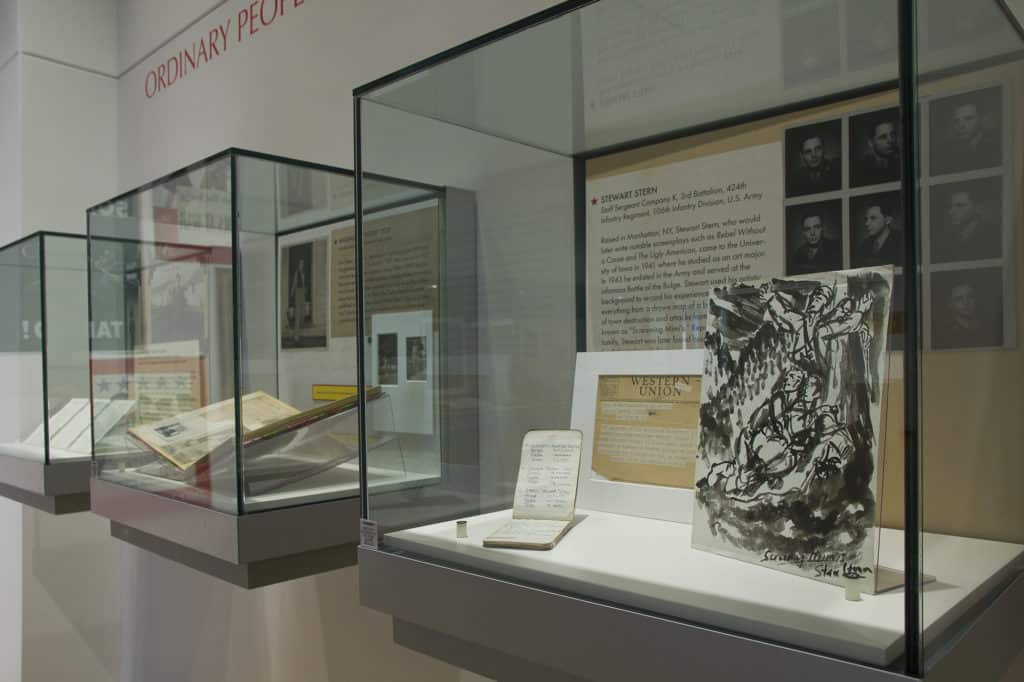 What is the Main Library Gallery?
The University of Iowa Libraries' Main Library Gallery is a museum-quality exhibition space located on the ground floor of the Main Library. The Gallery is equipped with temperature and humidity controls, professional grade display cases with alarms, and low light, all of which make it a suitable environment for rare artifacts requiring special display conditions. The facility has the capacity to host exhibition-related public programs for up to 100 guests in person, and the Gallery is a member of the American Alliance of Museums. A key purpose of the Gallery is to showcase UI Libraries collections.
Past Exhibitions:
Exhibits at the Main Library Gallery give the campus community and the general public access to items from the rich collections of the University of Iowa Libraries, including those which are rare and historically significant. Exhibit curators select unique objects, photos, papers, and books from these collections to tell stories about a range of fascinating topics, some of which have included:
the ground-breaking space discoveries of UI professor James Van Allen
Shakespeare's First Folio, a rare volume of the bard's plays published only one year after his death
Star Trek memorabilia from the personal collection of Wrath of Khan director Nicholas Meyer
the accomplishments and legacies of African American Hawkeyes
early filmmaking in Iowa as seen through the lens of Frank Brinton
a tribute to Walt Whitman
selections from the Ruth and Marvin Sackner Archive of Concrete and Visual Poetry
a 50th anniversary celebration of the Latino Native American Cultural Center
See details about past exhibits on the Main Library Gallery website.
How is the role of curator defined for the Main Library Gallery?
A guest curator in the Main Library Gallery is someone who assembles a research-based story narrative for the exhibition medium. This storytelling is enhanced by a selection of compelling items from the Libraries collections. In addition to researching for and curating items for the exhibition, people in this role must expect to serve as subject matter experts throughout the duration of an exhibit. This includes some exhibit-related class interaction or instruction, public programming, and serving as a content consultant for exhibit-related videos, social media and blog posts, and other engagement projects being created by Gallery staff to promote an exhibit.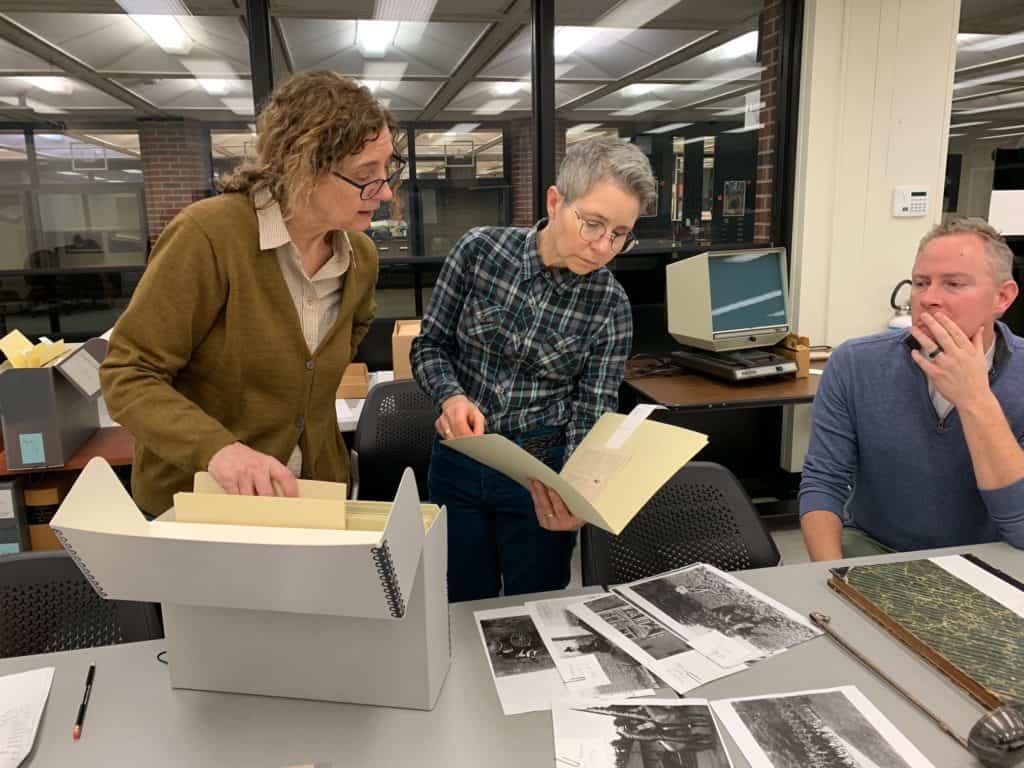 Lead curators should be prepared to devote approximately 15 months to exhibition production: 9 months of moderate work to plan the exhibition, followed by 3 months of intensive work before opening day, and ending with approximately 3 – 5 months of intensive work while the exhibition is open, depending upon the exhibit's run dates. This includes availability to give guided tours, talks, and other types of exhibit-related programming where possible.
Who can curate an exhibit in the Main Library Gallery?
Faculty and staff of the University of Iowa are eligible to serve as lead curators. Students and community members may be approved as co-curators.
How are exhibitions chosen?
Step I: Potential curators submit an initial statement of interest, after which the Gallery Advisory Team reviews the collected statements. Strong statements are chosen by this team for the next step. Top consideration will be given to exhibition ideas with well-defined themes, learning objectives, potential for community and curricular impact, and which prioritize inclusion. The Gallery Advisory Team is made up of nine UI Libraries staff members, a representative from the Pentacrest Museums, and an Associate University Librarian.

Step II: The initial statements with the strongest themes and highest potential for impact are invited to create and submit a complete exhibition proposal.

Step III: The Gallery Advisory Team reviews and selects the most rounded finalist proposals. Three proposals will be accepted, one each for the following time slots: Fall 2023, Spring 2024, and Fall 2024.

Step IV: Approved guest curators begin working with the Gallery's exhibition and engagement coordinator. A production calendar will be established.

Can I propose the installation of a traveling exhibition from another organization?
Yes. However, traveling shows must be proposed by a University of Iowa faculty or staff member, as with all exhibits. This faculty or staff member must be willing to serve in a curatorial capacity and provide subject matter expertise for classes and public programming throughout the duration of the exhibition.
The Main Library Gallery is part of the University of Iowa Libraries. Can I curate an exhibition of non-UI Libraries materials?
University of Iowa Libraries materials must play a starring role in Main Library Gallery exhibitions, but may be shown alongside approved items loaned from other institutions, campus GLAM (galleries, libraries, archives, museums) partners, or collectors.
TIMELINE
July 16: Deadline for statements of interest.
August 2: Decisions are announced. Finalists are invited to write complete proposals.
December 1: Deadline for finalist exhibition proposals.
December 17: 2023 – 2024 exhibitions are announced.
Curating an exhibition is a significant time investment, but the exhibit production process will be guided by Gallery staff and a reasonable production calendar. A professional designer, preparator, conservator, and exhibition and engagement coordinator will ensure success.
SUBMIT YOUR STATEMENT OF INTEREST HERE.

If you have questions about your submission or the selection process, please contact Sara J. Pinkham, Exhibition and Engagement Coordinator.