For those distant to campus, or who would like to experience the latest Main Library Gallery exhibition from home, a virtual tour of From Revolutionary Outcast to a Man of God: Dostoevsky at 200 is now available online.
Visit the virtual exhibition by clicking here, or on the image below.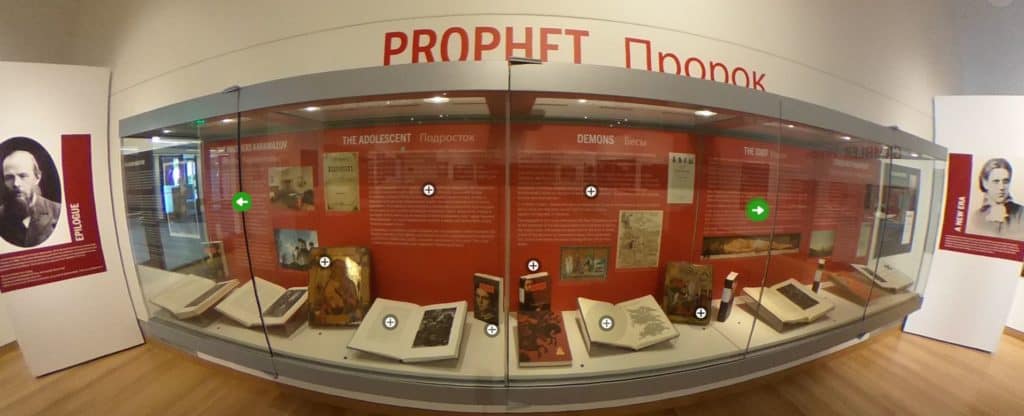 The tour features 360° photos of the Main Library Gallery, which allow the viewer to move from area to area. The text panels and the cases containing the items on display are clickable, meaning close-up views of most objects are available along with narrative from curator Dr. Anna Barker.
The exhibition features several books from the University of Iowa Libraries Special Collections & Archives, including illustrated limited editions of Dostoevsky novels, 19th century travel books, a 19th century Russian P︠S︡altirʹ (Psalms), and even editions of books by Oscar Wilde, Robert Louis Stevenson, Charles Dickens, George Orwell, Franz Kafka, and Aldous Huxley. These are supplemented by materials from the UI Libraries circulating collection and from the curator's own collection.
An immersive reader option is readily available in each section of the virtual exhibit to read the detailed image descriptions for each piece on display.
To read about the specific items featured in the exhibit, check out the accessible exhibition guide. It includes an introduction by the curator.
For more information about this exhibit, visit the Main Library Gallery website.
---
Thank you to the University of Iowa Pentacrest Museums for partnering with the Main Library Gallery to make this virtual experience available.