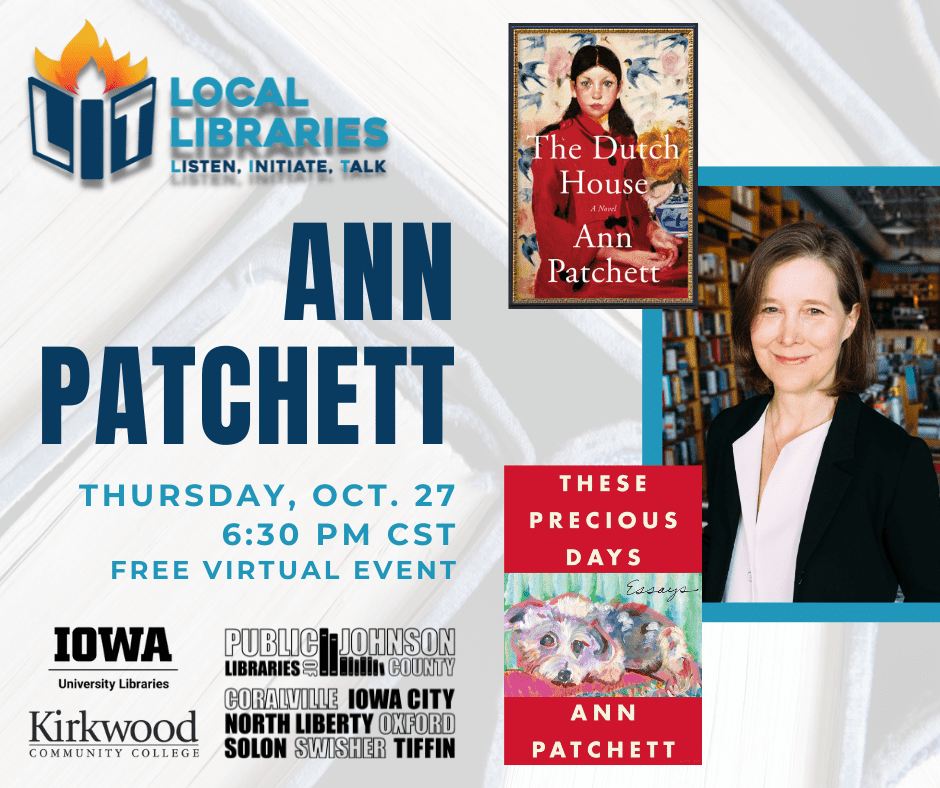 Local Libraries LIT (Listen, Initiate, Talk), a collaboration between Johnson County libraries, will welcome author Ann Patchett on Thursday, Oct. 27 at 6:30 p.m. for a free online reading and conversation.
This is the sixth virtual author event in the series offered by public libraries in Johnson County, as well as the University of Iowa Libraries and Kirkwood Community College Library – Iowa City Campus with support from The Tuesday Agency.
Exciting News! Ann Patchett has asked her dear friend (and fellow writer/Iowa alum) Elizabeth McCracken to join in her conversation on Oct. 27. Elizabeth's new novel The Hero of this Book was just released. Don't miss this fantastic exchange between authors!
Local Libraries LIT strives to grow a community which shines with diversity, equity, and inclusion. This special speaker series is offered at no charge to participants, though donations are welcomed to help sustain and grow Local Libraries LIT.
Register here to attend this free online program: http://bit.ly/3wHgtPQ
Guests must register in advance.
This program is open to people of all abilities. If you need an accommodation in order to enjoy the program, please contact Amy at the North Liberty Library: agolly@northlibertyiowa.org or call (319)626-5781.
_______
Ann Patchett is a celebrated author, devoted reader, and a champion of literary culture. She has written thirteen books and has been the recipient of numerous awards and fellowships, including England's Orange Prize, the PEN/Faulkner Award, and a Guggenheim Fellowship.
Ann published her first story in The Paris Review while still a student at Sarah Lawrence College. Her novel Bel Canto, was awarded the Orange Prize and the PEN/Faulkner Award. In 2016, Ann released her seventh novel, Commonwealth. It was selected as a New York Times Best Book of the Year, a TIME Magazine Top 10 Selection, and was a NBCC Award Finalist. In 2019, she published her first children's book, Lambslide, illustrated by Robin Preiss Glasser, as well as a novel, The Dutch House, which was a finalist for the Pulitzer Prize and has sold more than 1 million copies. Ann's latest, These Precious Days: Essays, is a deeply personal collection that reflects on home, family, friendships, and writing.