Items selected by guest curators for display in the Main Library Gallery are frequently drawn from Special Collections & Archives. Preparations for exhibitions provide excellent opportunities for rare objects in Special Collections to be examined for conservation needs. Professional care of rare materials is a core specialty of the Conservation and Collections Care department at the University of Iowa Libraries, and Conservation Lab treatments for fragile or damaged materials range from simple to complex.
"We are constantly finding unique gems in our vast collections through use, and one of the ways we do that is through researching for exhibits," said Giselle Simón, University Conservator. "This is especially exciting because we work with expert curators who really delve into our holdings, revealing items that might go unnoticed. This allows us to care for these items and get them into our focus, with faculty and students. It's another great way to expand our working knowledge of the collections, to understand the breadth of what we have here at the UI."
In the case of an 1851 Russian psalter chosen by curator Anna Barker, PhD for the From Revolutionary Outcast to a Man of God: Dostoevsky at 200 exhibition, it was important to remedy the severe deterioration of the spine prior to display.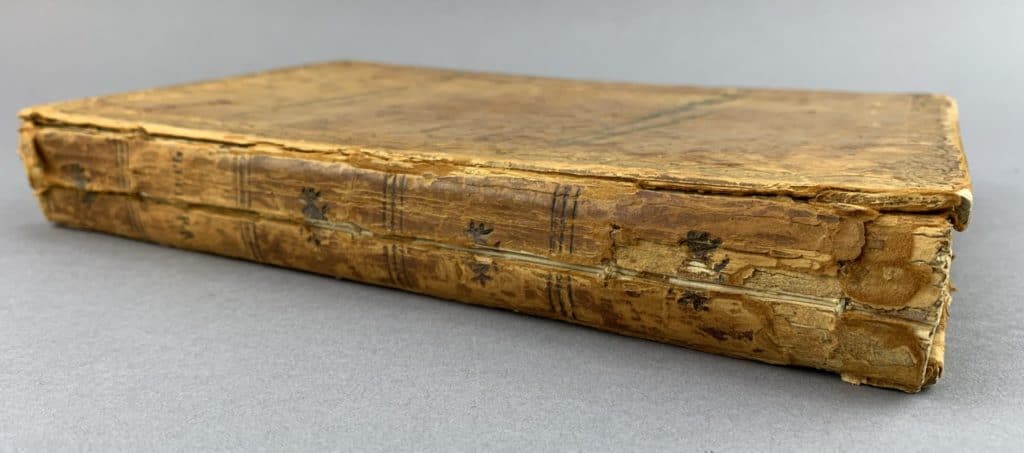 Bill Voss, conservator technician and exhibits preparator, managed the complex treatment process for this book.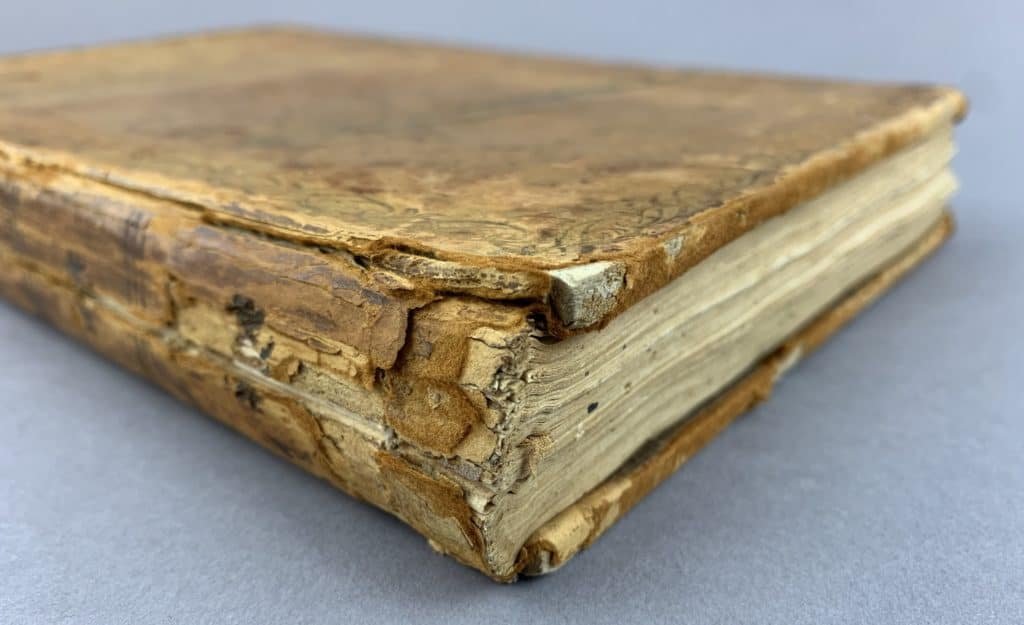 "For the psalter, the main issue was the degraded quality of the leather, often called red rot," said Voss. "This is not uncommon for modern leathers from the industrial era, which were tanned using chemical processes rather than traditional vegetable tanning. Because the leather on the spine had degraded and the book was a tight back with the leather directly adhered to the spine, over time the spine began to suffer losses, especially in creases where the book opened sharply."
When asked what was most challenging about this treatment, Voss noted that that spine required the most time and intensive repair. "The main challenge was to remove the remaining pieces of the spine intact, after which a new spine piece that stays free of the back when opening was inserted under the original covers. Then the spine was adhered and the edges of the repairs were mended with tissue and toned with acrylic," he said.
"It seems unusual to have a printed Russian psalter from this time period," said Simón. The book is remarkable for multiple reasons. "It has its original binding. While worn and abraded, it's still there." No repairs had been made to the psalter prior to its emergence as part of the From Revolutionary Outcast to a Man of God: Dostoevsky at 200 exhibit. 170 years after it was originally bound, Voss was the first person to attempt and successfully complete treatment on the book.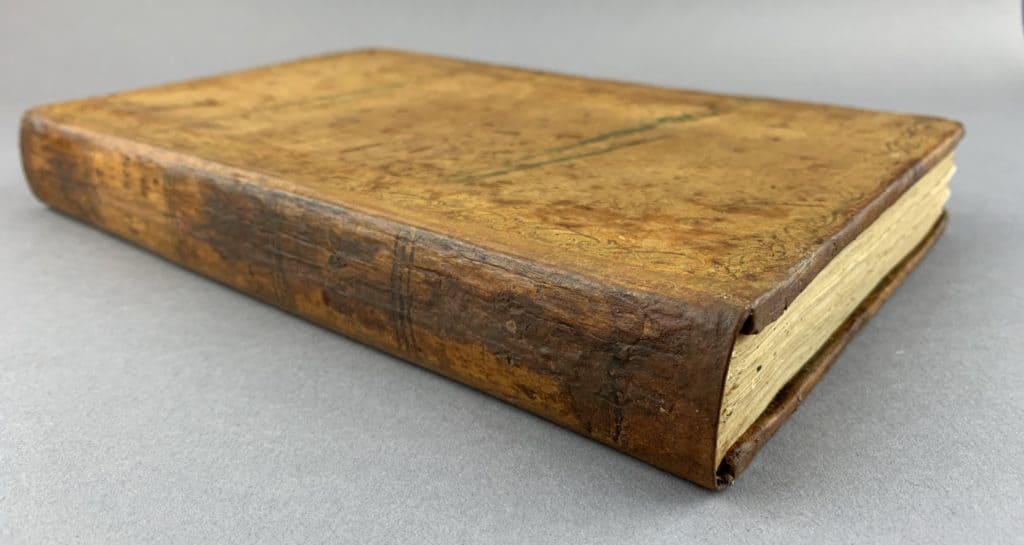 Eric Ensley, PhD, Curator of Rare Books & Maps, agreed that this psalter was a unique find in Special Collections & Archives. "This is an interesting book because it is emblematic of the changing society in which it existed," he said. "The book is printed in kirillitsa, which is a traditional Russian script that mimics the earliest Russian writing and Church Slavonic of much earlier writings. Even in the middle of the nineteenth century, the book would have looked like a relic. By this time, Peter the Great (1672 – 1725) had introduced a much plainer, simpler font known as the Civic Type that could be found in many books and documents. Imperial Russia was a quickly changing place; there existed scientific writings printed in Civic Type alongside psalters like this one printed in archaizing letters."
Ensley also considered a deeper interpretation of the psalter's presence in the exhibition in relation to Fyodor Dostoevsky's work. "In Crime and Punishment we can see a similar story played out where a young man, Rodion Raskolnikov, is out of sorts in the modernizing world he inhabits. Raskolnikov has at its root [the Russian word] 'raskol,' that is a 'cleaving,' but it's also the term for the split between the 'Old Believers' who followed an earlier version of Orthodox Christianity and those who embraced modernizing reforms. Raskolnikov's very name suggests one out of place in the modern world, not unlike this book with its liturgical content and appearance from a different period. Indeed, Raskolnikov finds redemption through Christianity and belief at the end of the novel, and it's not a stretch to imagine the book he and Sonya read looked like this."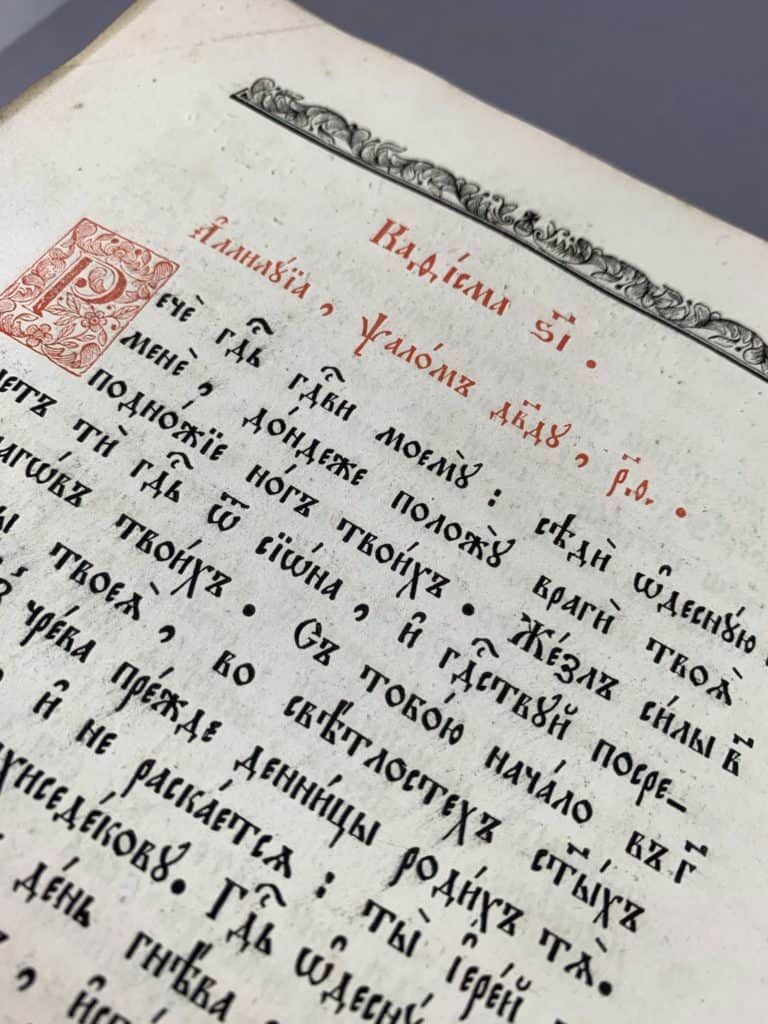 When asked why this psalter appears in the exhibit, Barker said, "It is representative of Dostoevsky's deep appreciation of his copy of the New Testament. The New Testament was the only book the prisoners in Omsk were allowed to keep, and it was Dostoevsky's only book companion for the four years his spent in the labor camp. He treasured his copy all his life. Descriptions of Dostoevsky's copy appear in his novels Notes from the Dead House, Humiliated and Insulted, and Crime and Punishment." Dostoevsky was sentenced to hard labor, beginning in 1850, for his involvement with a radical group called the Petrashevsky Circle. He was considered a dangerous political prisoner. Text written by Barker for the exhibition states: "This group advocated for greater social freedoms, relaxation of censorship, and abolition of serfdom. Most famously, the group participated in the reading and distribution of a politically charged and banned letter written by the literary critic Vessarion Belinsky to the writer Nikolai Gogol. After this incident, group members were arrested and imprisoned." This period in Dostoevsky's life inspired Barker to search Special Collections holdings for a Russian biblical text, resulting in the discovery of this book.
Proper conservation of materials makes it possible for everyone to continue learning from rare and unique books like this Russian psalter. "It is important so that we can not only keep the content alive and well for research, but also the bibliographic information that we get from book structure, paper type, printing style, and all other materials used to publish a book in its time [of origin]," said Simón.
Photos included below, taken by Bill Voss during his conservation of this book, give more insight into the technical process behind its repair.
Visit this book and other items from Special Collections & Archives in the Main Library Gallery through December 17 as part of From Revolutionary Outcast to a Man of God: Dostoevsky at 200. Or, view the virtual exhibition online.