At times the amount of ideas, and possible outcomes for this project have felt overwhelming. But it has started to feel more manageable as I transfer my ideas into paper, shape those ideas into a more concrete project, and draft the script of my video essay.
I have felt inspired by the presentations of the guest speakers and the ideas shared by the other fellows during our zoom meetings. Some of the thoughts shared have challenged how I envision my project, and they have also inspired me to learn new skills.
A skill that I have spent time learning is how to use video-editing software. In previous projects I had always used iMovie, and the last time I did a video essay I felt that the software was very stiff. In our second Zoom meeting, we talked about developing skills, giving ourselves the opportunity to fail, and following the things you feel passionate about. After that, I decided that it was worth my time to learn the basics of a completely new software since it is a core element of my future scholarly work. The reason I questioned myself was because this skill is not related to my academic background, and having a discussion about it gave me a different perspective about the topic.
One of the things that our last session made me reflect about is the importance of communities. My project does not involve any major interaction with a community; however, I have started to take into consideration what significance my project can have for the music community in Costa Rica. Are other professional musicians and college students interested in the topic of Costa Rican musical identity? Is anyone else interested in what music our National Orchestra plays and promotes?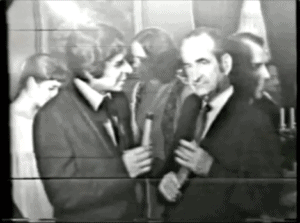 The still image is from an interview of Costa Rican former President Jose Figueres Ferrer after a concert of the National Orchestra of Cost Rica in 1971 at the National Theatre. This was a crucial period in the development of the Orchestra, and Jose Figueres Ferrer's Eurocentric vision defined the outcome of music and music education over the next 50 years in Costa Rica.
As a Costa Rican artist, I don't share that Eurocentric vision of music making and I advocate for a more inclusive approach that takes into consideration our context as a Latin American nation. This disagreement makes me ask myself: What are the consequences of creating content that does not celebrate, but criticizes Costa Rican music institutions? Especially when those institutions made possible my upbringing as a professional musician.
I deeply appreciate the opportunities that accessing a low-cost music education for 15 years has given me. I have concluded that because I care about the vision and future of the music practice in Costa Rica, I want to speak about this topic. In recent private conversations with Costa Rican professional musicians some have expressed that it is not easy to talk about this, and that this is controversial. But I keep thinking the most about something that one of them told me: "Mae alguien lo tiene que hacer." Someone has to do it.
– Gabriel Sánchez Porras