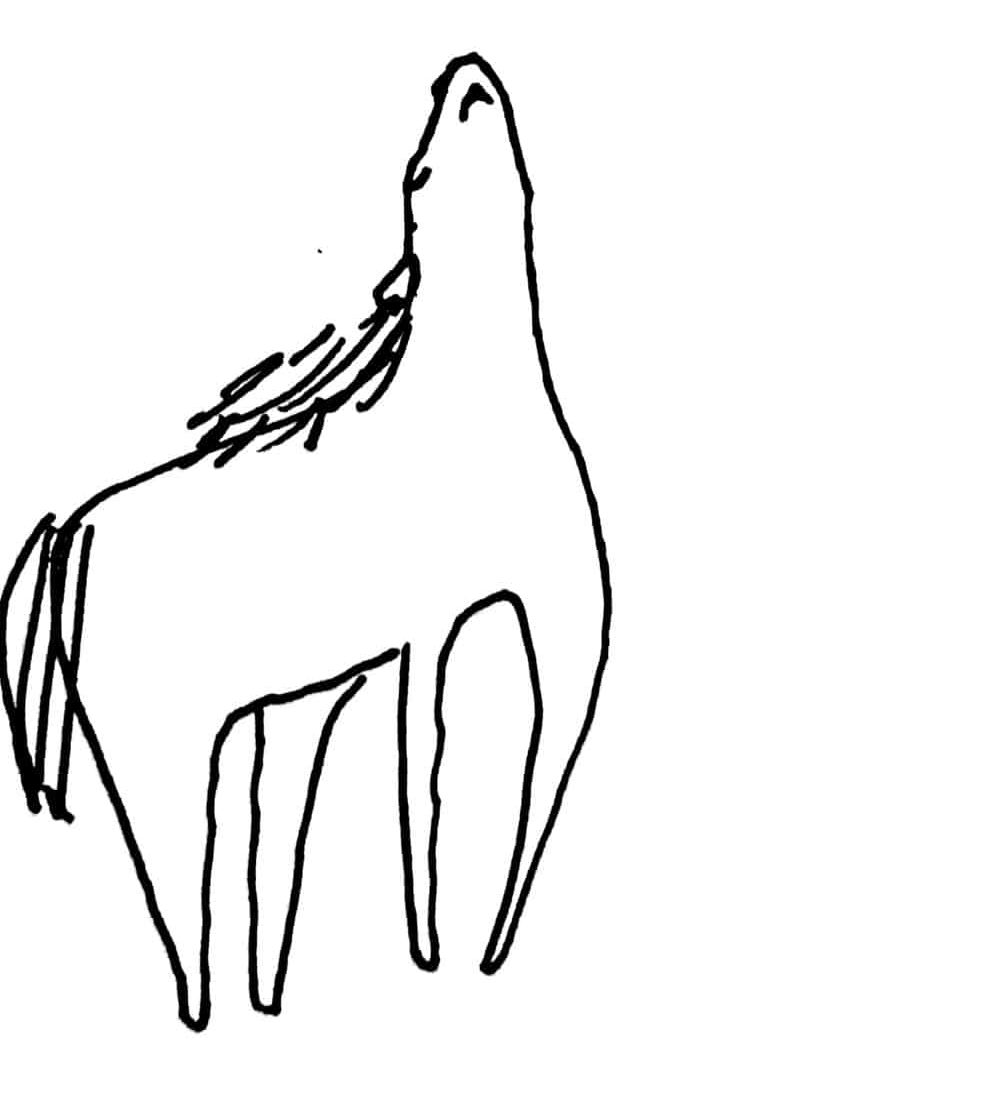 I'm having trouble with a horse. Or trouble with its essay.
As a writer in the Nonfiction Writing Program, I deal in words. As a pen and ink illustrator, I deal in image.
My project this summer with the support of the Digital Publishing Studio is integrating these modes in a way that their union yields fruit that diminishes neither and enhances both — a third way forward. A marrying of my two arts in the digital realm and an integrated way to pursue my research (various depending on the essay, but this year for my thesis, problems with the narrative of flight, early and future human-powered aviation, the ways insects and birds fly badly, how Amelia Earhart used to be very cautious about contracting measles as a child, and other things, etc.).
Horses are not about flying. But I needed to finish up work on this horse manuscript for an early summer deadline, and shuffling it around has been a way to cut my teeth on Adobe skills I'll need moving forward.
With the simple addition of Adobe skills to my person, I thought, slip slap bam, I would be able to illustrate essays all summer and beyond into a bright multimedia future. All I'd need to do is both things I already, but more or less at the same time.
This has proven more difficult than I imagined. I have words. 900 words of an essay that feel complete and ready to roll. I have pictures. A dozen illustrations primed to the task and tenor of the essay's lyric. What's more, I have InDesign and Photoshop skills. With which I have discovered is an infinite variation of possible layouts for these text and images that all feel wrong. And not just a little wrong, but completely wrong. Like I had taken two hunks of precious gem and, setting them together in their jewelry yielded that each turned to rock, just gravel, when placed adjacent to the other.
In many ways, this feels like the struggle of editing I find in prose alone. It is exciting to realize, bodily, through trial and error, the gestures of intuiting the relation of text and image in the same way one does the shape of a line or the syntax of a sentence. When two materials, however fully developed alone, are put into relation, the main focus becomes their relationship, and not the single voice of either. Meaning, one star is point of light and two stars are inevitably a constellation.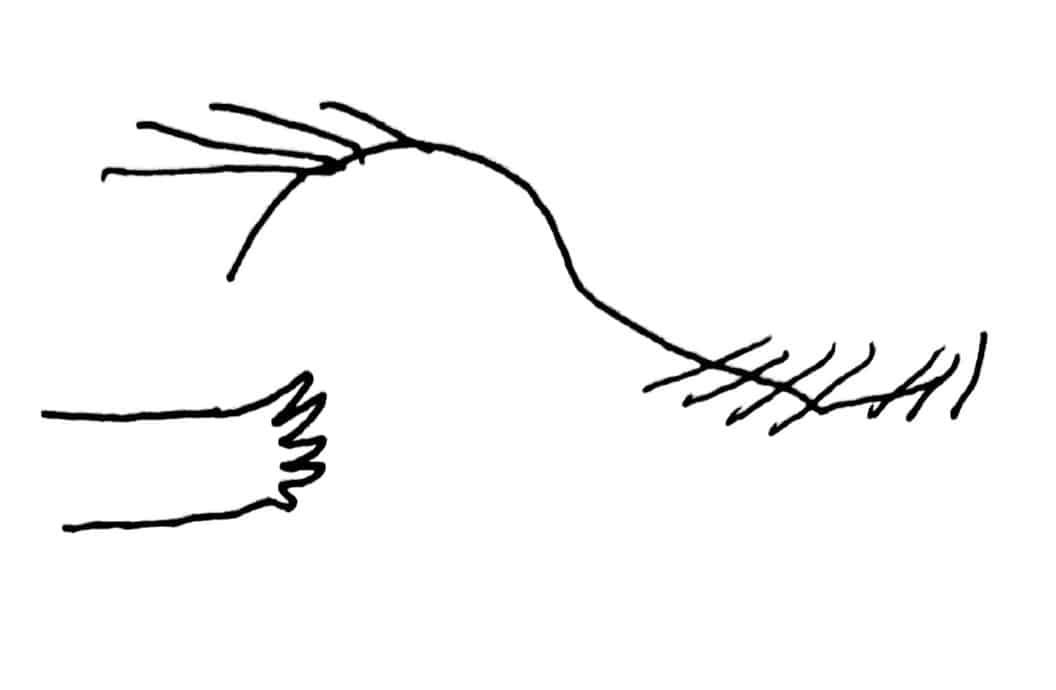 Some early conclusions:
Positioning this horse text with these horse images feels like being stuck in the beginning of a movie where the two people do not yet know how to be in love.

There is a difference between thinking about making a thing, and that thing seeming good in theory, and making the thing the way one imagined making it, and realizing the idea was not wholly sound.

I am wary of marrying the illustration with prose because I don't want the illustration to be redundant to the revelations of its poetry.

I worry the metaphor of the horse

will be overcome by an image of the horse.

Just because a person might write and illustrate, does not mean every writing they do is best illustrated.

Learning basic InDesign and Photoshop skills, I realize my belief was that these skills would make layouts obvious. As it stands, I know very well how to move the images and text around on the page and absolutely no idea where to put them.

I think the needs of the horse text and the needs of the horse images are mutual, in fact, but perhaps too mutual, so mutual, that they are filling the same need on the page itself, and telling a story two times that wants to be told once.

It can be difficult to balance the needs of two parties.

In these cases I find problems remain which technical skills and even a greater agility of intuition may not assuage.

Like indecision in artmaking, indecision in life is something I contend with daily. It is very difficult for me to shop for large purchases. I bought and returned a used car last week. The gas pedal hurt my right leg. It is one of the great embarrassments of my life. The car was perfect in all other aspects. But this hangup made the whole thing nonviable.

Some things can only be done alone. Like writing, and placing images. Deciding to return a car.

Talking about doing a thing, and worrying about doing a thing, and doing a thing, are all very different things.

When I am working with layout I am thinking: how close to the text should the image be, is this distracting, what happens when there are two horses on the spread, do they seem like a herd? is this too social? if I evoke a horse in mind, and then present a horse in image, do I rob someone of the joy of imagining the horse, or the work of imagining the horse? In an essay about absence, should this essay contain no images at all?

My essay about a horse is currently titled "Horse Essay", but I suspect it should be called "The Task of the Body" or "Hold Your Horse" or "Horse Essay One" (which I find to be the funny title—but I guess I'm not making a joke, I'm making an essay about longing, ultimately, so maybe in trying to be too clever I could be losing something there. I think that's often a risk with titles, in writing generally, of being too clever. Being too clever, because cleverness feels good, but that cleverness ultimately being obscuring or impenetrable or unrelated or some diversion that confuses the aim of knowledge being related. Cleverness can be quite ungenerous and Against the Aim of a Thing. And images, too, maybe, can be too clever if not deployed with great care.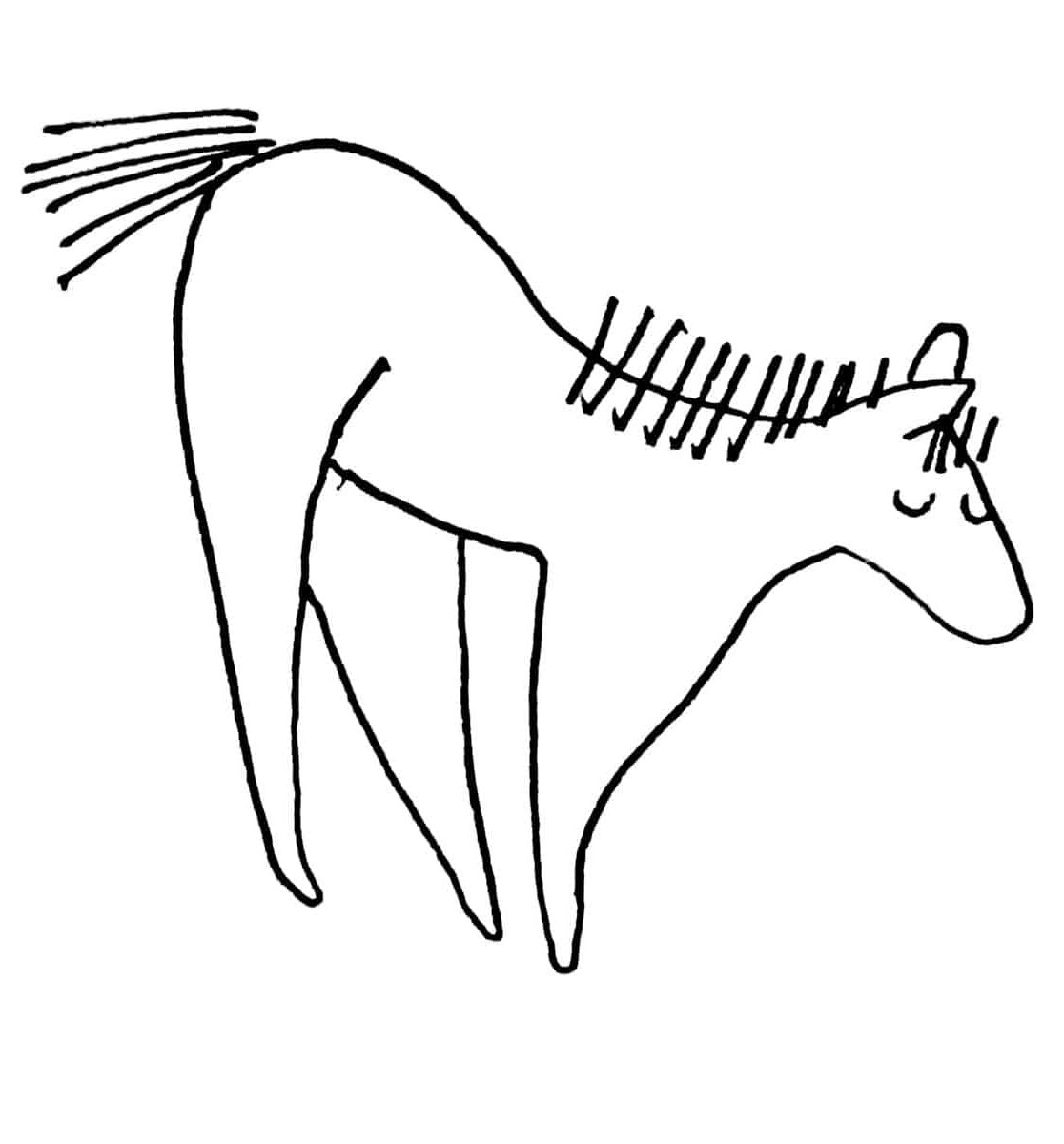 14. Should I return this horse?
15. Could I really have spent so many hours with text and image only to choose to end up exactly where I'd begun — with a strictly textual essay?
16. I think, yes. It took a few weeks of trotting around, but this baby is words only. Not a horse in sight.
-Jessie Kraemer