Hey blog, it's Julianna again. In my previous post, I described the film I pitched… and how my life exploded this summer. (The too-long-didn't-read: there was an accident, a week in STICU, and an aborted film shoot.)
GIF: The Lawrence Livermore National Laboratory just digitized and archived 497 (mesmerizing, terrifying) films of early nuclear tests, which can be found on LLNL's youtube channel.
I've spent the last few weeks figuring out what all of this means for my family, myself, and my film. It's been a crash course in: how to be a more supportive sister and potential caretaker; how to approach the creative process when I don't have everything I need; and how to make work that grapples with darkness when I too am in the dark.
All of this said: I don't understand the big picture yet, so I'll focus on details instead.
---
Thinking about America's current relationship with petroleum led me to ask a question I ask a lot these days: How did we get here? This ultimately led me to the 1970s oil crisis. (TL;DR: Postwar America consumed more oil than it could produce, so it began importing oil from the Middle East; the Organization of Petroleum Exporting Countries (OPEC) declared an oil embargo in 1973; the price of oil sky-rocketed, leading to fuel shortages; America freaked out!)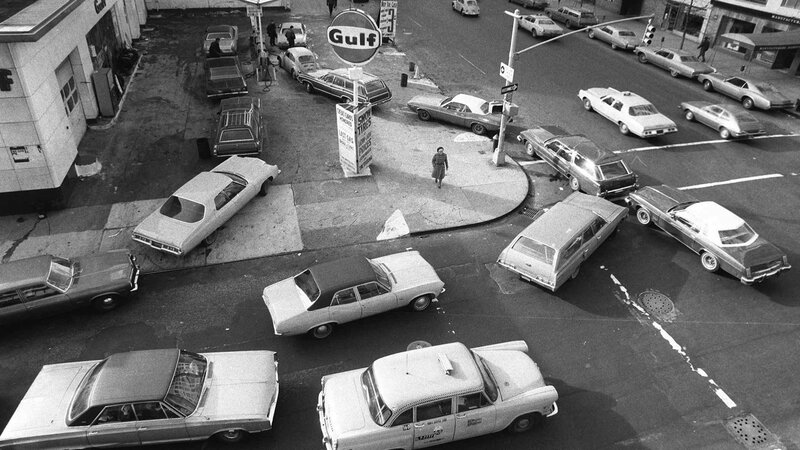 Photos, L to R: Long lines at a New York City gas station; No fuel for sale at a Pennsylvania gas station. Credit: NPR, "The 1973 Arab Oil Embargo: The Old Rules No Longer Apply."
Years after the initial embargo, on July 15, 1979, Jimmy Carter beamed into TV sets across America to deliver his landmark "Crisis of Confidence" speech. (Carter gets a bad rap but as a former ATLien, I'm partial.) To paraphrase, Carter says we're the reason we're in this mess, and… he isn't wrong. In my opinion, this speech draws a clear parallel between then and now, but this stands out in particular:

"… Too many of us now tend to worship self-indulgence and consumption. Human identity is no longer defined by what one does, but by what one owns. But we've discovered that owning things and consuming things does not satisfy our longing for meaning. We've learned that piling up material goods cannot fill the emptiness of lives which have no confidence or purpose."
Stills, L to R: Jimmy Carter is disappointed. Very disappointed. Credit: Miller Center, "July 15, 1979: 'Crisis of Confidence' Speech'"
After a lengthy but well-deserved reprimand, Carter lays out a plan for energy self-sufficiency. Among strict import quotas, incentives for developing alternate fuels, and the suggestion that "we must face the truth," there's this:
"We will protect our environment. But when this nation critically needs a refinery or a pipeline, we will build it."
Cut to: the vast network of pipelines being built across America.
---
Before this gets too long, I'd like to thank Matt Butler, Stephanie Blalock, Leah Morlan, Tom Keegan, my fellow fellows, and the Digital Scholarship & Publishing Studio et al. This opportunity gave me the support and protected time to not only research and make work, but also deal with a major unexpected life change. I'm so grateful for it.
In closing, here are a few selections from my work-in-progress film. Thanks for watching and reading!
– Julianna Villarosa