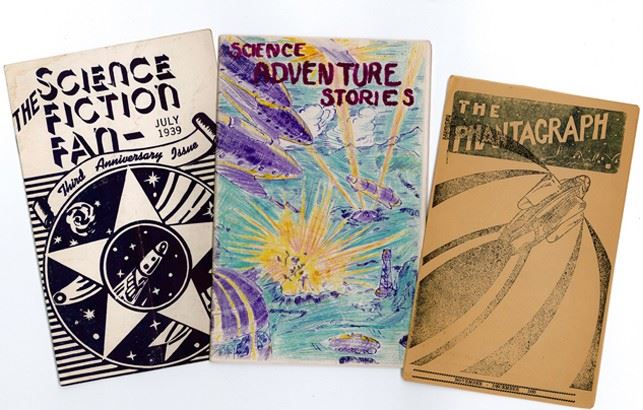 The University of Iowa Libraries has announced a major digitization initiative, in partnership with the UI Office of the Vice President for Research and Economic Development. 10,000 science fiction fanzines will be digitized from the James L. "Rusty" Hevelin Collection, representing the entire history of science fiction as a popular genre and providing the content for a database that documents the development of science fiction fandom…
Science fiction fanzines are amateur publications made by individuals or groups that discuss books, films, politics, and many other public and personal matters. They were initially written for a limited audience and distributed via personal connections and gatherings, beginning in the 1930s in the United States and Europe. Within the pages of science fiction fanzines lies previously inaccessible and unstudied primary documentation of the social history and popular culture of the 20th century.
Science fiction fanzine writers were intimately involved with many aspects of science fiction literature during the golden years of its development. The list of names is impressive: Ray Bradbury, Robert Heinlein, Arthur C. Clark, Robert Bloch, Leigh Brackett, Frederik Pohl, Harlan Ellison, Joe Haldeman, Michael Moorcock, Roger Zelazny, Marion Zimmer Bradley, Robert Silverberg, Roger Ebert, George R.R. Martin, Forrest Ackerman, and many others were actively involved in fanzine culture….
Once digitized, the fanzines will be incorporated into the UI Libraries' DIY History crowdsourcing site, where a select number of interested fans (up to 30) will be provided with secure access to transcribe, annotate, and index the contents of the fanzines. This group will be modeled on an Amateur Press Association (APA) structure, a fanzine distribution system developed in the early days of the medium that required contributions of content from members in order to qualify for, and maintain, membership in the organization. The transcription will enable the UI Libraries to construct a full-text searchable fanzine resource, with links to authors, editors, and topics, while protecting privacy and copyright by limiting access to the full set of page images.