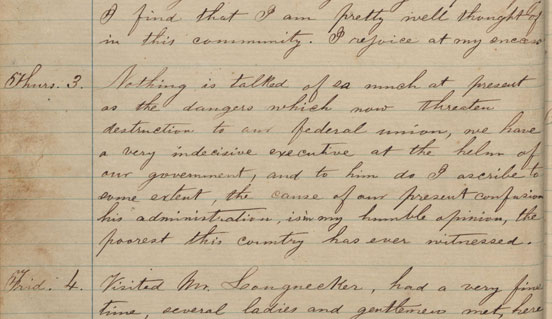 While our long-delayed launch of World War I & II documents at DIY History continues to be long delayed, there are still plenty of items currently available for transcription, including several new additions to our original crowdsourcing collection: Civil War Diaries and Letters.
Among these are four diaries written by Muscatine, Iowa, native George C. Burmeister, a schoolteacher turned Civil War captain. From his first, optimistic entry on January 1, 1861 ("Once more we look with anxious expectations into the future, and fondly cherish this day as a harbinger of anticipated fortune") to his 1864 newspaper obituary ("Let his memory be cherished as one who died that liberty might live"), Burmeister's story unfolds in the diaries as he enlists in the First Iowa Infantry, musters out, studies business and law, applies to the UI, rejoins the army as a captain, and dies in the Battle of Yellow Bayou.
Please visit DIY History to help preserve and improve access to the stories of Captain Burmeister and his fellow soldiers.