Celebrate National Poetry Month by viewing this work perhaps written by James Howell.
Make an appointment to view in person with curator damien-ihrig@uiowa.edu or by calling 319-335-9154.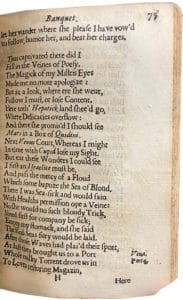 [JAMES HOWELL] (1594?-1666)] A hermeticall banquet, drest by a spagiricall cook : for the better preservation of the microcosme. Printed for Andrew Crooke, and are to be sold at the Green Dragon in S. Pauls Church-yard 1652 1st edition. [35], 161 p. 14 cm.
This work is of unknown authorship but has been attributed variously to James Howell, Thomas Vaughan, and Sir Thomas Cademan. Denham, in the 'Wellcome Library' argues that the first two attributions are impossible since the author's dedicatory epistle – addressed to Sir Isaac Wake, one of his patients and ambassador to France – necessitates a date of 1631 or earlier, impossible for Vaughan and a bit early for Howell.
Denham suggests Cademan (d.1651), who received a degree from the famous medical university at Padua, and was physician to Queen Henrietta Maria and the Earl of Bedford. Denham's attribution is suggested by the author's curious reference to himself as a vegetable reborn, something that suggests for Denham a word play linking the author's name with the caddis fly. And our author refers in this text to his time as a student in Padua, describing his walks through the botanical garden.
Whoever the author be, he is contemptuous of other medicos, and gives us his own recipe for healthy living, liberally flavored with humor and fantasy. He begins by comparing man the microcosm, to the universe, or macrocosm.
Health will be produced if we mirror in our regimen the balance of the components of the universe. He then treats the stomach, beginning with advice to avoid overeating, and (in case the advice is unheeded) following up with a number of compound herbal recipes for indigestion.
Next he discourses upon the brain, which he allegorizes as the king of our microcosm, served by entertaining such nourishing courtiers as Ovid and Ben Jonson. In this section, recipes – some with more than twenty ingredients – are given not only to sharpen the brain, but also for healthy vision and hearing.
Next comes his treatment of the liver, a particularly zany chapter in the course of which our author breaks into poetry, telling of his courtship of Lady Health and the banquets they shared together, in which the author had difficulty containing his desires for 'pyes,' 'maqeroni,' and marzipan.
In the final chapter, allegory carries him almost totally away, as he sets sail to the "Cardiacall Territoryes," where he encounters such characters as Don Ambitio and Signora Impudentia. He seems to have left Health completely behind, until at the end he offers heart-cooling recipes for the young and heart-warming prescriptions for the elderly. This book is very rare.
Cited references Wellcome III p.253 (Hermeticall); NLM 17th c. #5531 (Hermeticall)
Individuals with disabilities are encouraged to attend all University of Iowa–sponsored events. If you are a person with a disability who requires a reasonable accommodation in order to participate in this program, please contact Damien Ihrig at damien-ihrig@uiowa.edu or 319-335-9154.