The University of Iowa's Main Library will be a busy hub of four unique offerings on Saturday, October 23 during this year's Iowa City Book Festival.
All are welcome to attend an open house in Special Collections & Archives, a talk by guest author Laura Gellott, a guided tour of the Main Library Gallery's current exhibition about Dostoevsky, and a Riverside Theatre performance of Dostoevsky's The Grand Inquisitor.
"As our community returns to more in-person gatherings, we thought hosting a small set of events over the course of the afternoon would make it easy for community members to come to the UI's Main Library and enjoy different types of programming," says John Culshaw, the UI's Jack B. King University Librarian. "There's something for everyone!"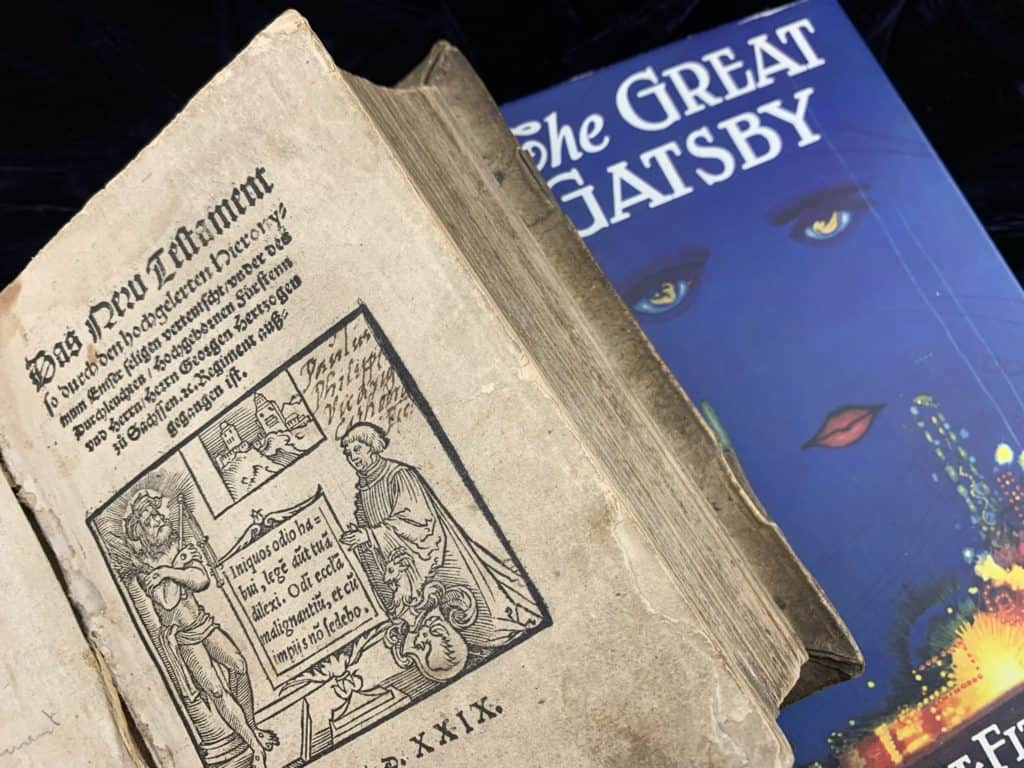 About the events
Open House — Reading through the Roarin' 20s, an open house event, will take place in Special Collections & Archives on the 3rd floor of the Main Library from 1:00 PM – 4:00 PM. Visitors are welcome to drop in any time during event hours to view selected rare books.
"This open house will be fun because we are celebrating the '20s through books, but not just the 1920s or 2020s," says Elizabeth Riordan, outreach and engagement librarian for Special Collections & Archives. "We're looking at books from 1520, 1620, and so forth, to explore book history and literature through the ages. It's a chance to get up close to history and hear the stories these items have to tell."
Author Laura Gellott.

Author Talk — At 2:30 PM, guest author Laura Gellott will give a talk in Shambaugh Auditorium inthe Main Library about her new book, Helen Perry Curtis and the European Trip of a Lifetime. As a child, Gellott read Helen Perry Curtis's Jean & Company, Unlimited, a charming account of an American girl's first encounter with Europe. The book inspired Gellott—professor emeritus of history at the University of Wisconsin – Parkside (Kenosha)—to pursue a lifetime of teaching and European travel. Gellott's book traces Helen Perry Curtis's life from its Nebraska roots to New Jersey and New York and across the European continent in the 1930s. She tells the story of the real-life travels behind Jean & Company. A book signing and light reception will follow Gellot's talk.

"Given the number of writers and travel aficionados in our community, we thought folks would be interested in Laura Gellott's journey toward the publication of this book," says Culshaw.

Exhibition Tour — The Main Library Gallery is currently home to From Revolutionary Outcast to a Man of God: Dostoevsky at 200, an exhibition curated by Anna Barker, visiting assistant professor in the UI's department of Asian and Slavic languages and literatures. The exhibit celebrates the life and works of Russian writer Fyodor Dostoevsky (1821-1881). Barker will be giving a guided tour of this exhibition at 4:00 PM as part of the Iowa City Book Festival.
Live Performance — Riverside Theatre will be performing The Grand Inquisitor, a short play based upon the most famous chapter of Dostoevsky's novel The Brothers Karamazov, at 7:30 PM in the Main Library Gallery. Tickets are free but must be reserved ahead of time at RiversideTheatre.org. Information about additional show dates can also be found on the Riverside Theatre website.

"The Book Festival is always a great way for us to share our resources and highlight authors to the community as a whole," says Culshaw. "As a public institution, community engagement is an important part of the UI and the UI Libraries' missions. We're excited to share these unique events with the community."

Visit lib.uiowa.edu for parking and other information about Libraries events. Learn more about the Iowa City UNESCO City of Literature's Iowa City Book Festival 2021 program schedule at iowacitybookfestival.org.