We are pleased to announce that the UI Libraries has received a National Endowment of Humanities (NEH) $300,000 grant award for a three-year preservation and access project to provide conservation treatment and to digitize 150 oversize scrapbooks in the Keith/Albee Vaudeville Theater Collection.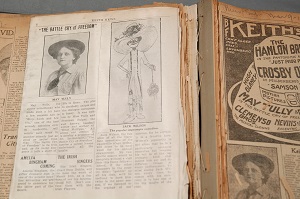 Since its acquisition in 1976, the Keith/Albee Vaudeville Theater Collection has remained the leading vaudeville archive in the country. Documenting the activity of a prominent vaudeville theater company through more than 40 years of business, the collection is rich not only in newspaper clippings and other publicity, but in managers' reports and financial records as well. As such, the Keith/Albee collection is more than scattered playbills and more than the personal archives of individual performers. This collection is context. The collection's focus on the business of vaudeville provides an understanding of the industrial evolution of a major form of popular entertainment. In the end, the collection allows researchers to track the conditions that contributed to the decline of live entertainment and the rise of film—currently a field of intense scholarly interest. As a result of its strong research value, the Keith/Albee collection has been source material for a number of books and dozens of articles, reaching scholarly and popular audiences alike, throughout the past thirty years. As the study of the history and evolution of early, popular American entertainment grows, interest in the Keith/Albee Vaudeville Theater Collection is expected to grow likewise.
In its current condition, the collection cannot sustain increased handling—let alone the handling it receives now. All of the scrapbooks' substrate pages are brittle; only the amount of brittleness varies as does the amount of resulting loss and damage. A recent collection survey indicated that 56 percent of the scrapbooks have incurred some degree of loss or damage as a result of brittle paper and normal handling. More than 60 percent of the scrapbooks that have incurred enough damage to have their use limited or restricted entirely. Doing so would make approximately one-third of the collection off-limits to researchers. With this grant the Preservation and Conservation Department will be able to preserve this collection while increasing its access to researchers.
A special congratulations to co-authors Bethany Davis, Digital Processing Coordinator, and Patrick Olson, Special Collections Librarian for their excellent work and dedication to crafting a successful application to one of the most competitive grant programs.