In higher education, we often equate student life and campus life. Last year, I found myself questioning this notion on my frequent shortcuts through the student center on campus. Absent from most of the archival photos hung in the student center's hallway chronicling milestones in the building's history are black students. Student life does not always equal campus life, especially for students who were not welcome into the same spaces as their white peers. In reviewing the UI Libraries' (UIL) efforts to represent early black student life, I considered what the UIL Preservation Department could do to combat the erasure of the African American experience in Iowa.
We're fortunate, at UI Libraries, that the university's mandate to serve the public affords us the opportunity to leverage existing expertise and community connections. UIowa campus collections regularly partner with local cultural and community museums, like the German American Heritage Center & Museum, the National Czech & Slovak Museum & Library, and the African American Museum of Iowa (AAMI). Rather than push for a UIowa-specific event, I thought it best to see if there were communities in Iowa that the AAMI serves who would benefit from a digitization drive.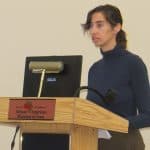 After meeting with staff from the African American Museum of Iowa to discuss how UIL could leverage its resources for outreach and education, AAMI museum staff decided their visitors would benefit from a digitization drive and other preservation-related events to coincide with the fall opening of their fall exhibit, If Objects Could Talk. After months of preparation, UIL preservation staff, volunteers, and UIowa Museum of Art staff shipped up to Cedar Rapids the night of Friday, August 25th and Saturday, August 26th.
Saturday began with a talk led by our department head, Nancy Kraft, and Keith-Albee project conservator Candida Pagan. After discussing the basics of preserving family heritage, they shared their experiences working with institutions heavily impacted by the flood of 2008. UIL Preservation/Conservation treated and recovered a significant amount of AAMI, Linn County Register, and Czech & Slovak Museum of Iowa books and artifacts damaged by the flooding.
After the lecture, Nancy joined our head conservator, Giselle Simon, Preservation Processing Assistant Shelby Strommer, and UIMA staff to provide 1-on-1 consultations for the general public. Archival Products in Des Moines, IA donated enclosures for participants to rehouse their documents and images, which was highly appreciated.
The bulk of preparation for the events went toward the digitization drive pilot which began Friday night and continued Saturday, which we titled the If Objects Could Talk History Harvest. "History harvest" is a term coined by the University of Nebraska at Lincoln which we found fitting for another Midwest-area event of the same nature. The goals of the event were clear: test workflows for a digitization drive so that any volunteer without cataloging or archives experience could capture relevant metadata and digitize material to AAMI standards. My goal was to develop an AAMI History Harvest in a Box, for lack of a better term – easily edited and easily reproduced. Ideally, AAMI history harvests could occur around the state as well as on site. To that end, volunteers for the pilot were a mix of UIL staff, the UI history department, UIMA staff, and interested members of the public.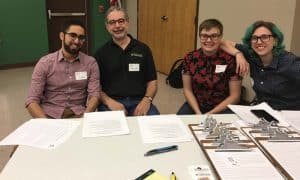 Using guidelines modified from AAMI and libraries that have conducted similar events, we scanned document and photographs from visitors as well as narrative forms which participants filled out to share the story behind the items they selected for the history harvest. The narrative form arose from discussions on how to ethically capture the stories behind participants' items – I wanted to eliminate the number of judgement calls facing a volunteer throughout the process. For this reason, the Google Form that was used to capture metadata had notes beneath each field that explained what to enter, gave an example, and referenced separate handouts when necessary. Additional handouts expounded on the notes about content description. The narrative form itself had 3 questions:
Why did you select these particular items for the If Objects Could Talk History Harvest?
What do these items say about you or your family?
What do these items say about your community or family's history?
Filenaming was a simple formulation of a pre-determined folder number printed on slips and attached to clipboards with a release form and a narrative form. For example, the release form associated with f_10, would be f_10_release and the 3rd item that volunteer brought in would be digitized and named f_10_3. In keeping with AAMI conventions, _front and _back were upended when appropriate.
| | | |
| --- | --- | --- |
| Bettina Miller shows Allison Bettine her family photos / Shari Neal | Aiden Bettine ready to scan as Allison Bettine catalogs photos with Bettina Miller / Shari Neal | Shari Neal with former AAMI Executive Director, Thomas Moore / Vitalina Nova |
| Volunteer Heidi Stofer with participant Diana Henry / Vitalina Nova | Vero Rose Smith and Dominique Alhambra of UIMA cataloging and scanning / Shari Neal | Vero Rose Smith uses a Google Form to catalog Thomas Moore's photograph as Dominique Alhambra scans / Shari Neal |
The history harvest's model was post-custodial – the only materials that AAMI would accept were the scans of participants' items and narrative forms. At no point would any staff or volunteers take ownership of physical items and participants were under no obligation to donate. At the end of the process, participants would receive digitized copies of their photographs or documents on a UIL flash drive and were encouraged to save several copies in different locations.  This was made clear through the release and deed of gift, both of which were purposefully redundant to make clear to participants that they need not become donors to participate in preservation events.
The pilot was a success! We tested out what works, made changes for the future, and can suggest improvements. Participants appreciated UI staff and volunteers being there and visitors that heard about the events but didn't have materials at the ready asked for the date of the next event!
In response to interest, and outcomes from this weekend, museum staff will begin planning in October for a Black History Month history harvest in 2018. They'll use photos and digitized material from this weekend in addition to all the preparation for the If Objects Could Talk history harvest and equipment we were able to purchase thanks to a mini-grant from the Obermann Center for Advanced Studies.
Creating forms, workflows, and managing the project took a lot of work and wouldn't have been possible without collaborations within the department, UIL, other campus departments, and the previous work of colleagues outside of UIowa. Thank you to all the volunteers on Friday and Saturday (including Ben Bessman and Heather Cooper, neither of whom are pictured in this post), UIL Metadata Maven Jenny Bradshaw, Adam Robinson at American University for his cataloging expertise, Shelby Strommer for selecting literature and refining scanning workflows, the UIL Preservation/Conservation Outreach and Engagement Working Group, Jacki Rand for her help figuring out how best to gather narratives, and Katie Hassman and Hannah Scates Kettler for their general guidance.