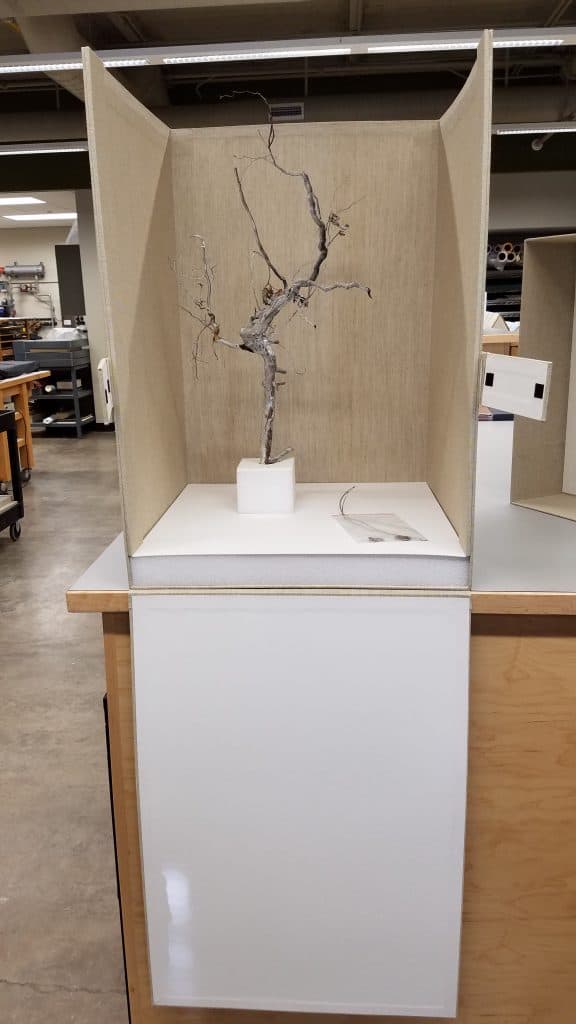 As part of his work in the conservation lab, Bill Voss constructs enclosures to house delicate artifacts. He recently completed a large custom enclosure for one item from Andrei Codrescu's Art Installation Piece. Codrescu is a Romanian-American writer and artist. His artwork and poetry was acquired for the UI Libraries' International Dada Archive in Special Collections. A spray-painted tree, wooden staff, puppets, and a pack of Russian cigarettes are just some of the artifacts in the collection.
The spray-painted tree is especially fragile and requires a container that will protect it and help maintain its artistic integrity. Voss created the design for the custom enclosure which he calls a "drawbridge box." He built the tree's box over the course of a couple weeks, letting the boards dry in between steps of construction. Foam was used to hold the object in place inside its container and add an extra layer of protection. One wall of the drawbridge box opens down so that the tree can be easily accessed while avoiding damage to the artwork.
Voss has made similar structures in the past to protect items like a globe, a doll, and an Emmy, but the tree's enclosure came with its particular challenges. To accommodate all of the delicate branches, the box needed to be large. The big boards used to create the walls had a tendency to warp, and keeping them straight was an obstacle. Previous drawbridge boxes that Voss constructed were smaller and needed only a lid to keep them securely closed. The tree's box needed reinforcement around the middle to support the large boards. This reinforcement also acted as a second closure. Codrescu's artwork will eventually be kept in off-site storage.
Check out the Andrei Codrescu Papers finding aid to learn more about the collection.