Friday, October 19, 2012
We are nearing the end of the flood damaged flatwork for the National Czech and Slovak Museum and Library.  One of the final pieces was a map that had previously been broken into 32 pieces and lined on a linen cloth.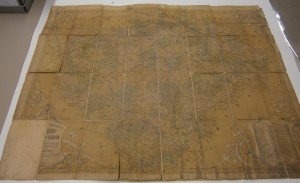 We carefully removed each piece of the map from the linen backing.  We then washed each piece to remove any mud and debris from the flood and to make sure all residual adhesive was gone.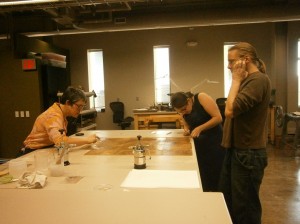 Since the map was in so many pieces we needed to work quickly to puzzle it back together.  Bill Voss and Giselle Simon rounded out what has to be the fastest puzzle team this side of the Iowa River.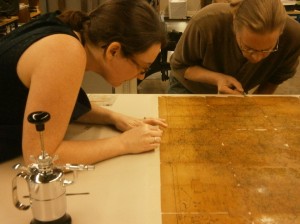 Bill and I made some paste and pasted our backing sheet of handmade Japanese paper to the counter top.  We then moistened each piece of the map and carefully placed it upon the paper.  We worked quickly to add all the tiny pieces of the map and then placed blotters on it to help it dry.
Once the map was completely dry it was removed from the counter and encapsulated.  Only a few more pieces of flatwork to go and the NCSML will have all their pieces back!