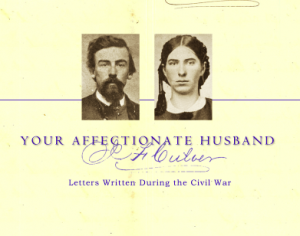 The University of Iowa Libraries launched an experiment this morning by publishing online the first in a series of letters written by Civil War solder Joseph F. Culver to his wife Mary. The idea, hatched in Special Collections where the original letters are housed, is to web publish this series of Civil War-era correspondence exactly 150 years to the exact day each letter was written.
http://blog.lib.uiowa.edu/culver/
We hope that Civil War buffs and anyone else interested in a compelling story will set an RSS feed to follow the Culvers' story as it unfolds, and track his location throughout the United States. These letters are also available in our  Civil War Diaries & Letters Transcription Project or compiled in the book, Your Affectionate Husband, J.F. Culver: Letters Written During the Civil War.
The U.S. Civil War Sesquicentennial has provided a national context to expose our Civil War holdings to a broad public. This effort to re-issue the Culver letters on a blog has given Digital Research & Publishing a chance to experiment with a few web publishing tools, including Google Maps, the WordPress SIMILE timeline, first developed at MIT, as well as a WordPress plug-in to manage footnotes. At the Libraries, we are always on the lookout for new ways to publish, promote and preserve the academic and historic record. We hope you enjoy our latest experiment.
 —Nicole Saylor
Head, Digital Research & Publishing