This summer, I am excited to learn more about digital archiving as I continue to develop a digital archival project in partnership with the hoboing community in the upper Midwest. Since 2021, the hoboes and I have worked together to develop a site called Hobo Archive to digitally preserve cultural resources from the community. We took interest in the use of community-based approaches in addressing the need for more participatory methods in data collection. I am eager to explore how crowdsourced data informs the quality of metadata creation, and how community knowledge sharing paired with humanities computation informs the study of cultural data.
My primary goal this summer is to put the hoboes to work! Amazingly, folks in the community are willing to help me create a working component to the site that allows them to share and upload content online. As we are seeing a shift from institutional to participatory archives as a means for breaking down the hierarchal nature of metadata and the institutional power structures in archiving, communities are becoming more interested in archiving their own histories. We are increasingly shifting toward new digital practices and tools as an effect of the pandemic. Cultural heritage organizations are actively creating new digital ecosystems for communities to contribute, participate with, and share more of what they are interested in remembering. This paradigm shift raises important questions as to how digital technologies can uplift, preserve, and empower cultures in sustainable ways.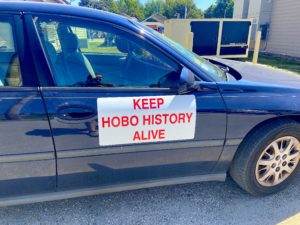 Throughout the next few weeks, I will continue to think about the placemaking of digital experiences in the social life of the public, and how community-university partnerships can partake in this placemaking. The most challenging aspect of my digital project is sustaining the community centeredness of the collection process. How can we begin to conceptualize inclusive practices in digital archiving? Another challenge is the question of cultural authority. How do you balance the cultural knowledge between leaders, their communities, and traditional archival processes that still hold authority? Also, I look forward to developing Hobo Archive as digital scholarship. How can digital cultural studies projects enhance research-based product development while promoting intellectual rigor and collaborative creativity? As a huge advocate for civic engagement and service learning as forms of engaged research, I look forward to learning more about how to support digital learning and innovation in higher education this summer.
Many thanks to Nikki White, Lindsay Mattock, Alyssa Varner, and many other key collaborators at the Studio and SLIS for the amazing work put into this project so far!