It takes a lot for me to say that I'm truly uncomfortable.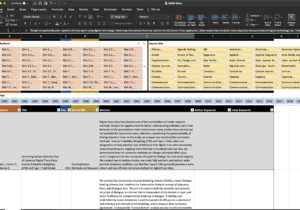 In life, I am pretty sure I've lived it in a perpetual state of discomfort—or at least a way in which I embrace situations that aren't all that cozy. I believe in being uncomfortable so much, that I used to start my senior English class (I used to teach high school) each semester with an article about needing controversy, not comfort in our classroom spaces. For me, being truly uncomfortable really is about admitting I don't know something and the public perception that I'm not actually as put together as I like to personify to the world.
Let's just say I'm having that moment.
As part of my project, I'm having to work with Big Data – like hundreds of thousands of cells of data. And I've often been vocally opposed to doing this type of research because I find it lacking the ethic that I live by; I feel like I can't find relationships and work to help challenge oppressive systems. But what I'm trying to accomplish cannot be done without living in the uncomfortable.
Thankfully, I've gotten tremendous support in the early weeks of the fellowship as I embark on my journey to learn R, work with so many pieces of data, and find how to make something from plenty.
My fellowship project hopefully will result in a searchable database of journalism, media, and communication research that lives on a static webpage, with a specific focus on mixed methods studies. This means that journalism, media, and communication scholars and professionals will be able to go to this page, query certain keywords and mixed methods used, and get a list of articles that respond to that need—with the title, author, journal, and DOI that can be used to access the article in other search engines or libraries. I'm doing this as part of a larger project with Dr. Melissa Tully and Dr. Rachel Young about the current state of mixed methods research in journalism, media, and communication. It is the comfort of having them with me on this process, as well as the incredible Nikki White coaching me along, that I embrace my discomfort and work to better myself and my field in the process.
-Patrick Johnson