The end of another semester means another update to my map!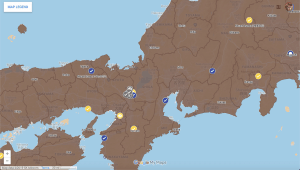 This semester I focused closely on the first 30 locations in the text, ten from each category of location I determined, visited locations (gray), mentioned in poetry (blue), and mentioned in prose (yellow) . This covers chapters 1-9 for visited locations, 1-10 for places mentioned in poetry, and 1-12 for places mentioned in text. I spent my time building off of the work I had completed over the summer.
I expanded the information about the locations to include passages from the other main versions of the text–the Dennis Washburn translation into English, the Shinpen Nihon koten bungaku zenshū and Shinpen Nihon koten bungaku taikei. I also included more detailed research notes and even tried my hand at translating the waka poems. One of the reasons I wanted to include the four main different versions of the text was because of differences between not only the translations, but also the two versions of the Japanese text.
(The passages from the four texts regarding Miyagi Moor)
While I have done a lot of text analysis regarding the text because of this project, I want to keep my map and the information on it fairly objective, so it can be used as a resource for text analysis by other researchers and students. For that reason, I will also be creating a location index which has my own analysis and more detailed information about the places.
I spent a lot of time this semester refining my categories, and in addition to the three main categories listed above, I also decided to include a tagging system to further clarify the types of locations present in the text. On the map they take the form of check marks to denote real, extant locations (i.e. Kiyomizu-Dera), x marks for real, non-extant locations (i.e. Suzaku Palace), circles for a region or non-single point locations (i.e. Miyagino), a book for fictional, Genji specific locations (i.e. Genji's Nijō Estate), and, last but not least, ? marks for fictional or poetic place names that I took an educated guess at locating (i.e. Okinaga River).
I also played around with the format the map was going to take. I had been using Google MyMaps for a while but wanted to look at my other options. The very first version of the map was made using QGIS, which was a fun challenge to learn but is lacking in key interactive features and a challenge to embed on a website. I also considered using OpenStreetMap but that lacked the personalization I was looking for, and the last option I was looking at, Mapbox, required knowledge of coding that I am not interested in acquiring at this moment. In the end I stuck with MyMaps and it's worked out very well. It was easy to upload my .csv data files, the icons are easy to change and set for each different location, and I was able to upload data to get the old provinces of Japan to show up (shapefiles from CHGIS which I changed into a kml file). Using Google also allowed for the map to easily be embedded on my website, Genjipedia, which has the full interactive map.
This project has been a long process, and it's changed a lot from what I first created, but this semester I've done a lot of work to make it a legitimate and useful resource for other people. Next semester, I will continue working through the locations past chapter 12, though at a slower pace than this semester. I will also be going back and amending some data to make the information that pops up when a location is clicked less cluttered and more user friendly. While I have about 82 more locations to complete, it sure has come a long way from the first version!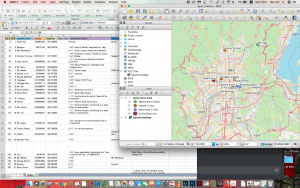 (Initial version of the map-created in QGIS)
-Mac