People undergoing treatment for cancer may experience a wide range of symptoms that can vary in their frequency and intensity. Experiencing multiple co-concurrent symptoms, also known as symptom clusters (SCs), can be highly distressing and impact one's quality of life and functioning.
Currently, an increasing amount of nursing and other clinical data is being collected through Electronic Health Records (EHRs). EHRs provide a unique opportunity to understand the experience of all patients with cancer. I sought to devise an efficient method for clustering patients based on similarity of symptom trajectories and to estimate the individual risk of severe symptoms from chemotherapy.
The preliminary results identified two or three distinct subgroups with different patterns of five symptoms during chemotherapy treatment: pain, mobility, activity, nausea, and nutrition.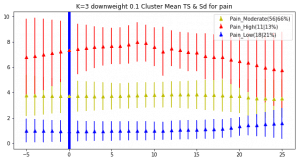 Fig 1. Clustering of pain patterns 5 days before and 25 days after CTX (n=85)
0 = No pain, 2=Mild, 5 = Moderate, 8 = Severe, 10 = Worst possible
This figure shows that group 1 (13%) started high with a decrease pattern of pain, group 2 (66%) represents patients with a constant pattern of moderate pain, and group 3 (21%) represents patients with a constant pattern of low pain intensity. I have established the feasibility of identifying longitudinal patterns of symptoms by cluster analysis of nursing documentation records. I hope the results of my dissertation will lead to better symptom management for patients in cancer treatment.
After I finished my proposal meeting, I decided to increase the sample size from advanced cancer patients into all stage cancer patient and also increase the period for data extraction. Meanwhile, I am waiting for getting updated data sets from ITCS during, as a summer fellow at the Studio, I am conducting a systematic review: longitudinal cancer symptom clustering. The purpose of this review is to examine research focused on the patterns of symptom experiences of patients with cancer, and the extent to which the perspective and methods of developmental science have been used in this research. I am screening the titles and abstract of 777 articles using EndNote.
After I get the updated version of data set, I will clean the data using R by end of July. Other symptoms such as sleep quality, oral health, appetite, and so on, will be clustered using the interactive digital coding and mapping by August. I want to visualize the clustering of subgroups of patients with the help of staff in the library in August.
Sena Chae
College of Nursing