Technology is built in a language of pattern and so is the world.
In these first few weeks of the fellowship, I have been thinking and reading about what it means to observe and record. In this mindset, the world is full of "ephemeral" data — the stuff that surrounds us, happening all the time. Therein lie patterns and rhythms. How can the digital lend its nuance to this process of noticing? These are fleeting glimpses that float by. Yet, when we hear these patterns, we are entering a new communion, an interaction or communication of sorts. If a tree or a bird or an inchworm could text, what might they say?
Maybe it's about tuning into a different channel.
In May, I spent 2 weeks as an artist in residence at Iowa Lakeside Laboratory. During much of this time, I explored Lake Okoboji and the surrounding prairies and forests in Northwest Iowa. We were invited to go along on field trips with Science classes taking place simultaneously, all of which held an ecological focus. Early one morning, I joined Alex Braidwood's "Acoustic Ecology" class as they set out to record a dawn chorus in Kettleson Hogsback Wildlife Area, near Great Lakes Wildlife Unit Headquarters.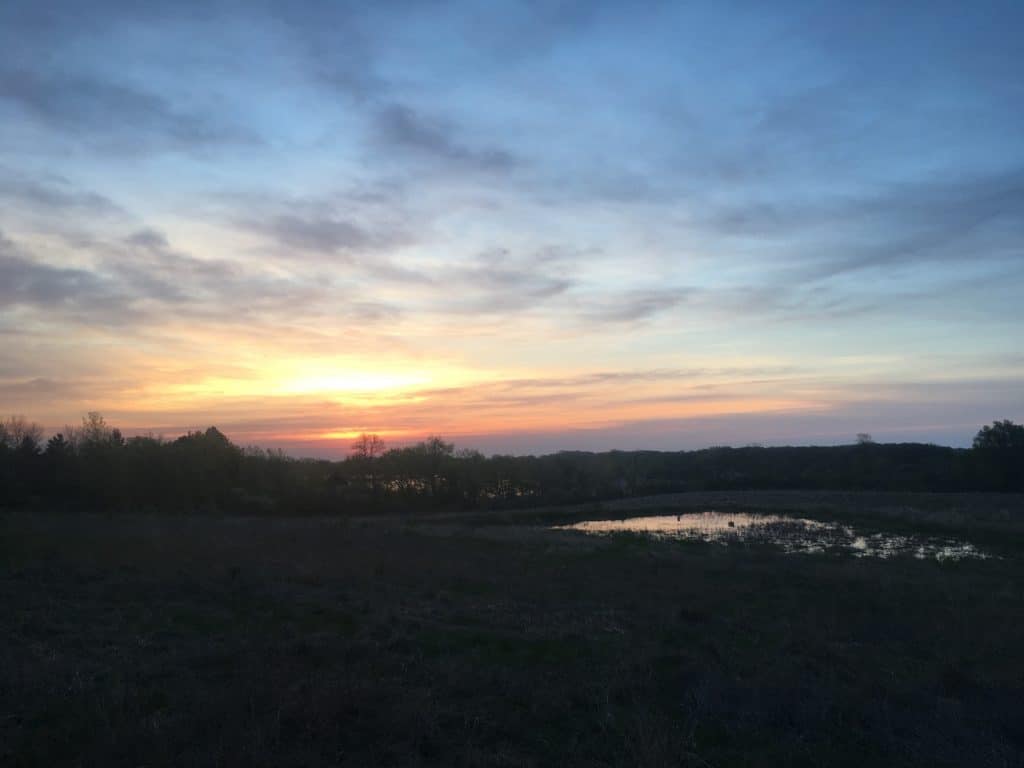 We set out at 4:30 am to set up the sound recorders before the sun rose. Then, we left them undisturbed, uninterrupted for close to 2 hours. In the cycle of the "biophony," the dawn and dusk choruses are some of the most profound and active times of day, particularly during the months of March through July when birds are mating. Biophony refers to the collective sound that vocalizing animals create in a given environment.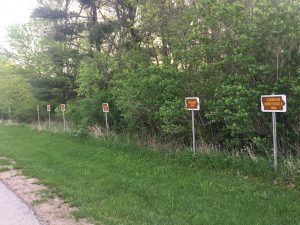 By Alex's recommendation, I've been reading 2 books: The Great Animal Orchestra by Bernie Kraus and The Soundscape: Our Sonic Environment and the Tuning of the World by R. Murray Schafer. These books ask larger questions about "biophony" vs. "anthropophony," noting that human sound often interrupts and disrupts natural wavelengths and frequencies. Can there be a more reciprocal relationship, I wonder? How might we use technology as an expression of devotion? With reverence, with respect for what lives more quietly, for what came before?
I've spent these first few weeks listening as well as reading. I have been listening to this original Kettleson Hogsback recording, as well as others taken around Okoboji and here in Iowa City. I am using the Adobe software, Audition. As I listen, I've been watching the Spectral Frequency display. You can recognize a bird sound by its spectral pattern. LITERALLY. The discrete sounds create such unique patterns. I mean, I know this is elemental sound dynamics, but oh my, it's so beautiful to hear and see simultaneously! The recordings fluctuate from coordination to chaos and back, all at once orchestral and balanced.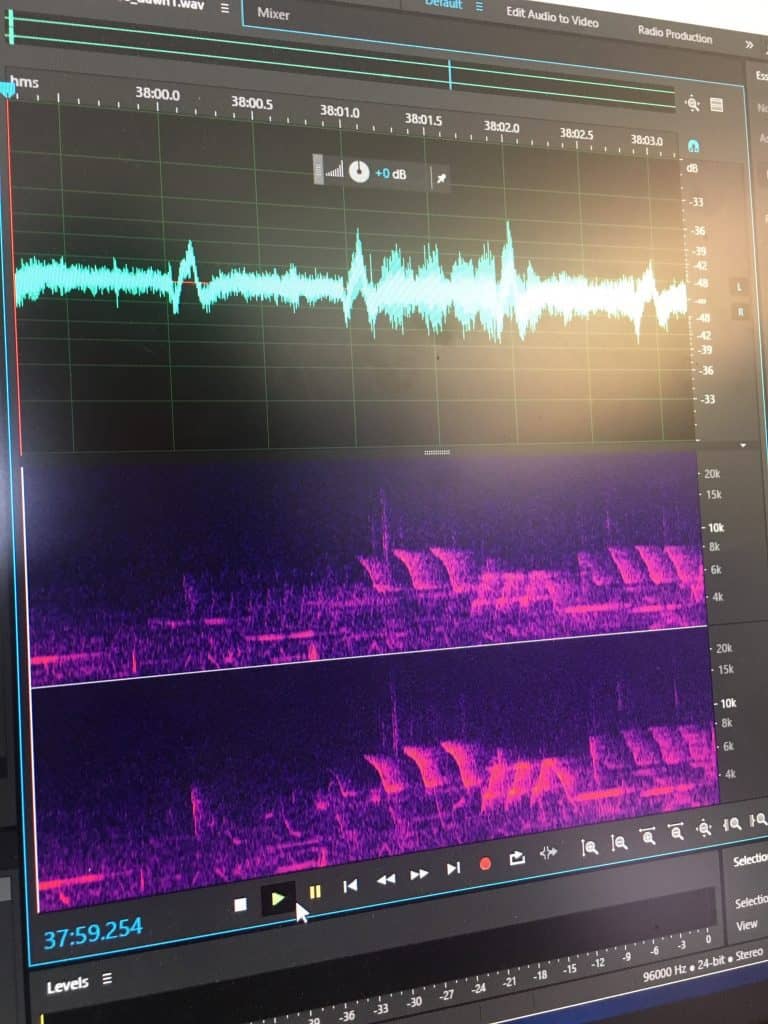 (Bottom display represents spectral frequency )
Watching the spectrogram on the recordings reminds me of working with light. What is the filter or the prism? How can we receive a plethora of information and make it meaningful? Relevant? Clear? Communicative?
Sara Scheib, a Science librarian, recommended an experimental site related to bird sounds, which I think beautifully illustrates the nuances and possibilities in this work: Experiments with Google: Bird Sounds. Take a look/ listen.
So far:
– I feel proud having learned some about navigating Audition / Audacity.
– I feel grounded knowing I am able to spend time with this material in a thoughtful and conscious way.
– I have been thinking of both sound and light as dimensional in new ways.
– This technology thing is working out alright.
Over the next couple of weeks, I hope to take some bits of these sounds and move them through a visualization process. This is where physics seems to inevitably enter the picture. Flashbacks to 10th grade equations swirl through my head. Light and sound do indeed rule the world. Here are some ways you can measure and visualize these frequencies:
Spectrometer / Spectrogram / Spectrograph
After talking with Hannah and Dan, as well as spending time at the Science Library, this next step feels both abstract yet possible. I will likely work towards some way of taking sonic information and running it through a software or modeling program. Bite size math and physics for the win? (We'll see!)
Many thanks to Alex Braidwood, Dan Miller, Laurie Neuerberg, Hannah Scates Kettler and Sara Scheib for their support and input on this project so far.
– Jenna Bonistalli
References:
Brady, Mark (ed.). The Wisdom of Listening. Boston, MA: Wisdom Publications, 2003.
Krause, Bernie. Great Animal Orchestra. New York, NY: Little Brown and Company, 2012.
Schafer, R. Murray. The Soundscape: Our Sonic Environment and the Tuning of the World. Rochester, Vermont: Destiny Books, 1977.