This past week I had the opportunity to attend a lecture at the Englert Theatre featuring Patrisse Cullors, co-founder of the Black Lives Matter movement. Cullors' activism was, in part,  fueled by the final verdict of the State of Florida vs. George Zimmerman case.  The controversial trial ended with George Zimmerman being found not guilty on all counts of second degree murder for the fatal shooting of Trayvon Martin. In response, Cullors and others took to social media, proclaiming: "let's take these three words and let's start a movement." The Black Lives Matter movement continues to combat racial injustice and call for the implementation of increased accountability within law enforcement practices. Thoughout her talk, Cullors expressed the importance of organizing at local levels as a means of creating a national and global movement. Her call to action and to the lessons of the past reminded me of two particular instances in Iowa's past, where bold men and women have spoken out against injustice.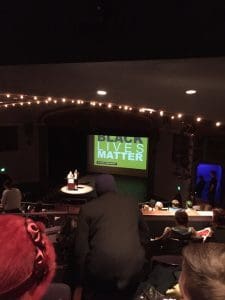 In 1945, Charles and Ann Toney were refused service in Davenport, Iowa's Colonial Fountain, a local ice cream parlor. The clerk, Dorothy Baxter, refused to serve them solely based on the color of their skin. Charles Toney, knowing this refusal was in violation of their civil rights, brought the case to court. Toney, a member of the local NAACP chapter, credited his activism to his mother who refused to sit in the segregated section of a movie theater in Clinton, Iowa, the town in which he grew up. After two trials and much deliberation, the court ruled in favor of the Toneys granting them the first ever victory for a civil rights case tried in Davenport. You can read more about the Toneys and their case in George William McDaniel's, "Trying Iowa's Civil Rights Act in Davenport: the Case of Charles and Ann Toney."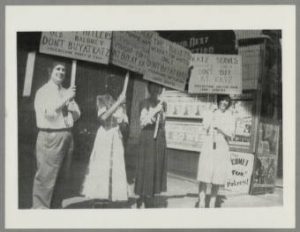 In 1948, Edna Griffin, a black woman living in Des Moines, tested the boundaries of this legislation by walking into Katz Drug Store. Griffin, her daughter, and two black men sat down to order ice cream sundaes on a hot July day. Though the waitress took their orders, she returned to the table saying that her manager had told her not to serve them. Griffin, aware of her rights, took the case to trial.  Several community members infuriated, organized protests and boycotts directed at the discriminatory practices occurring at lunch counters across Des Moines. The case was eventually brought before the Iowa Supreme Court, and in 1949 a civil rights victory was won Griffin's behalf in the State of Iowa vs. Katz proceeding. More details on Griffin's story can be found in Noah Lawrence's,"Since it is my right, I would like to have it: Edna Griffin and the Katz Drug Store Desegregation Movement."
These stories are two of many archived in the Iowa Digital Library and the Iowa Women's Archives, and they invite us to look back on our history and the role Iowans have played in defending civil liberties.