The first DH Salon for spring 2016 was about Iowa Research Online (IRO). IRO is not a DH specific tool; we use it to publish, archive, and freely disseminate output of the University community. It has been primarily used for textual scholarship and creative works, but it also includes audio, video and data.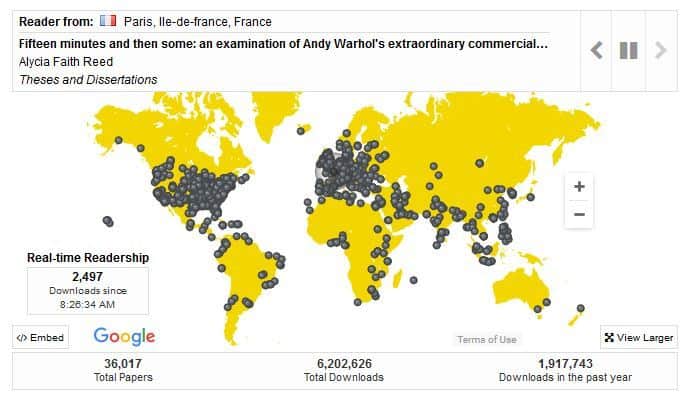 IRO includes faculty, graduate student, undergraduate, administrative and community content that meets the Libraries selection criteria and which we are able to post according to copyright. Although it is called Iowa "Research" Online, it includes creative works as well, such this dance video filmed in the Art Library.
IRO also functions to archive University content essentially as part of University Archives (e.g. various Office of the Registrar reports).
The Library has committed to maintaining content in IRO for the long term. Virtually all the content is freely accessible everywhere in the world, without anyone needing to login to access. The Library ensures the content has good metadata and that it can be easily found through Google and Google Scholar, as well as through more traditional library indexes and catalogs. For example, IRO content is in the SHARE database.
IRO is very well indexed in Google and the majority of people find content in this manner. The use of content is worldwide (see map at the top) – even on a late Friday afternoon in Central Time we were seeing downloads! (Last summer Rob Shepherd made a great map showing the downloads by country, which was featured in a previous blog post).
A download count is also visible when something has had more than 10 downloads.
IRO includes articles published in open access journals for which the library has paid the author publishing charge (APC) for people without grant or other money to cover this charge. Such publications are more common in the sciences than in the humanities/social sciences, but please keep this option in mind for future articles. The Library will also use the fund to cover some of the costs of an open access monograph. Our guide has additional information.
Note that APCs are one form of gold OA, but freely available journals with no charges to read or for the authors to publish is another model which IRO supports. For example, Walt Whitman Quarterly Review is a peer reviewed, gold OA title, with no charges for the authors or readers.
IRO also includes journals with back content freely available (e.g. Iowa Review) or can serve as a permanent archive for content that is already freely available (e.g. Little Village). We also publish an undergraduate journal (Iowa Historical Review).
All non-MFA theses and dissertations submitted from fall 2009 required by the Graduate College to go into IRO, after an optional embargo period has ended. Currently theses and dissertations are all PDFs, but some theses do include supplemental content, expanding the traditional thesis. The Graduate College is working with various groups to allow more variety in what is submitted (and housed in IRO).
IRO also serves as an archive for oral histories from HistoryCorps. The official HistoryCorps site has more styling and personality, but the archive ensures we will be able to maintain the content of this public engagement project for the long term, even if the look and feel of the current site are not maintained.
IRO includes selected undergraduate work as well, primarily original content created in innovative classes. For example, it includes an archive of twitter data (from back before people understood how useful Twitter was to see current events and before the Twitter API changed) The series includes student archives alongside the faculty member's collections, some of which have receive thousands of downloads.
We have also archived student oral histories made as part of IDEAL's Iowa Narratives Project. These items include an audio file, text and images and show that IRO can hold more complex content. I particularly like this series for how it captures Iowa City from a student perspective and includes people and businesses that are no longer here.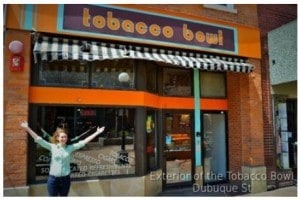 We have a few books in IRO. These can display the cover and be downloadable by chapter.
IRO includes conferences (paper, presentations, handouts and videos can all be included). This has allowed at least one conference to stop printing out large packets of handouts for each participant. Conferences can also have more formally published papers. We work with the UI Center for Conferences of directly with the organizers as needed.
Smaller data sets, such as to supplement an article, are also included in IRO; it is not appropriate for very large files, but it is being used for data connected to business publications as well as for some linguistics data.
IRO interoperates well with a separate product from the same vendor (bepress), called Selected Works (SW), which allows you to make a custom profile. You do not need to be part of the University of Iowa to have such a profile – you can keep it after you graduate and move to another institution. You can easily include IRO content on your SW profile. However, if you upload content to SW, it will NOT be archived by the University of Iowa.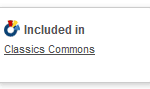 You can search for content across all customers that use the same software as IRO. Each page includes a link to the larger "commons". The content is all full text, but it is also only from customers using the same software so it may or may not include major researchers in your field.
Institutional repositories, like IRO, are distinct from Academia.edu, which, despite the edu domain, is a for profit site. Some publishers, such as Taylor & Francis, allow posting content in an institutional repository but not on a commercial site.