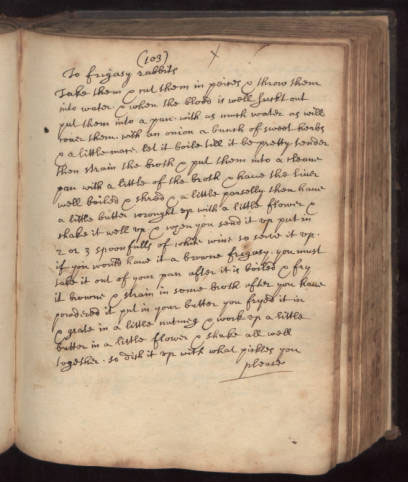 While "Downton Abbey" fans tune in to season 4 in record numbers and our Special Collections department celebrates with an exhibition of period cookbooks, volunteers at the Libraries' DIY History crowdsourcing site continue to transcribe historic recipes handwritten by real-life Mrs. Patmores.
Notes on how to "send up" a dish — a final step in some of the recipes from our Szathmary collection of manuscript cookbooks — might seem a little mysterious to the uninitiated. But "Downton Abbey" viewers have become familiar with the geography of meal preparation in historic upper-class households, with servants cooking elaborate dishes in kitchens located below stairs, then presenting them with fanfare in the dining room above.
For food historians, tracking down specific information like this in the Szathmary collection used to involve countless hours skimming thousands of hard-to-read manuscript pages. Now, thanks to the painstaking efforts of our volunteer transcribers who provide data for full text searches, it can be found in seconds.
Below we present a few of our favorite "send it up" examples, in case anyone wants to get fancy and "stik a light flower in the centre" of dinner tonight.
To frigasy rabbits (Anne Bayne cookbook, circa 1700)
…when you send it up put in 2 or 3 spoonfulls of white wine so serve it up. if you would have it a browne frigasy. You must take it out of your pan after it is boiled & fry it browne & strain in some broth. After you have powdered it put in your butter you fryed it in & grate in a little nutmeg & work up a little butter in a little flower & shake all well together. So dish it up with what pickles you please.
Gravi sase for torkie chickins pollits Ducks wild & tame & all sorts of wild fowle & hare & venson (Penelope Pemberton cookbook, 1716)
…send it up in poringers: ye venson & hare must have gravis sase in ye dish: ye tong & uder nothing I had forgot to tel yu: yu must sweeten ye venson sase with powder suger to yr tast: not to sweet.
Savoury Sauce for a Rosted Goose (English cookbook, 1799)
… pour this into the body of the goose by a slit in the apron just before you send it up.

Raspberry Cream (Susan Gilbert cookbook, 1848-1887)
…put the remainder of your cream into a deep china dish and your frothed cream upon it as high as it will lie on. Stik a light flower in the centre & send it up. It is proper for a middle at supper, or corner at dinner.