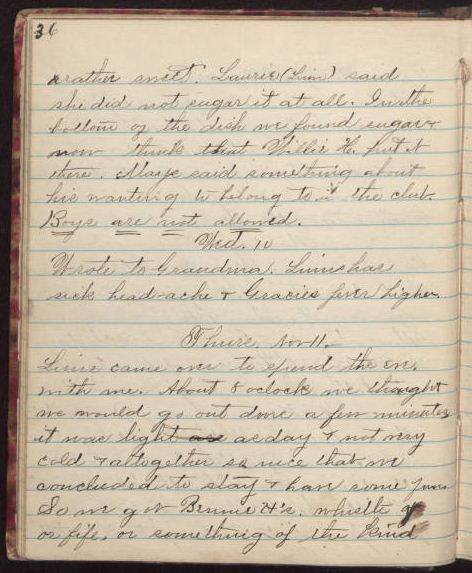 Now awaiting transcription at our DIY History crowdsourcing site is the late-19th century diary of Belle Robinson, a charming document of a girlhood in Iowa spent playing croquet, attending picnics, making taffy, and going nutting. And like another girl who lived in a little town on the prairie, Belle had literary aspirations. Included in her diary are verses written to amuse school friends, reviews of library books (usually described as "very interesting"), and references to story writing, as in this series of entries from 1876:
Tuesday 15th
Club tonight at Meg's. I am elected secretary. We are going to have a paper next time like they had in Little Women. I am editor and promised to try and write a kind of dime novel story.
Wednesday 16th
Began story.
Thursday
Am going to a party at Flora McCreery's, we have slighted them so much lately, that I shall have to go – although I hate to dreadfully.
Friday
Have finished my story. It's perfectly horrid, "The Gipsy's Secret" is the name. Went to the party last night & did not get home till twelve oclock. Perfect martyrdom for 4 hours it was. May's club held here, they are in the other room making an awful noise.
— February 15-18, Belle Robinson diary, 1875-1877
Sadly, Belle died in 1887 at age 25. Had she lived, she would likely have joined her older sister May — fittingly "making an awful noise" with her girlfriends in the above excerpt — who became active in the women's suffrage movement in Iowa.