Below are the Thanksgiving entries from our Civil War Diaries and Letters digital collection featured on our transcripts Twitter account this week. The holiday traditions weren't fully established during the Civil War — it hadn't been declared a national holiday until Lincoln's proclamation of Oct. 1863 — so soldiers were as likely to celebrate Thanksgiving dinner with chicken or apples as with turkey. But Dr. Asa Bean, serving as a surgeon in the Union Army, managed to engage in the traditional family squabble; in a letter to his wife, his description of the holiday meal was immediately followed by a harangue about finances:
"I have Not Received any Money Since I came here Not a dollar. Do you see the point, one point You will Readily see The point of My Not sending any Home Pay Day Must come sooner or Later – May be I shall come home before Long."
Sadly, that trip home never happened; Bean died in service the following spring.
—-

Yesterday was "Thanksgiving Day." We observed it by having chicken & some few other nice things for dinner.
—

Thanksgiving day, went to town, heard an excellent discourse by an army chaplain at the Presbyterian church; no drill today.
—

This being Thanksgiving day the Sanitary Commission issued three fine apples to every man.
—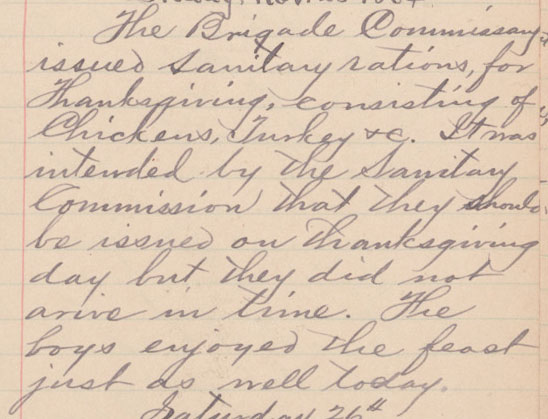 The Brigade Commissary issued Sanitary rations, for thanksgiving, consisting of Chickens, Turkey &c. It was intended by the Sanitary Commission that they should be issued on thanksgiving day but they did not arive on time. The boys enjoyed the feast just as well today.
—

There has been a surprise party here to Day for the Benefit of Soldiers & Nurses they were furnishd with a Choice thanksgiving Dinner Roast Turkey; Chicken & pigeon & Oysters Stewed. The Ladies were here before [12 M?] Thus Displacing the Hospital Dinner; Common; Eclipsing it Entirely. I had a good dinner of Baked Chicken & Pudding Boiled potatoes, Turnip, Apple butter, cheese Butter, Tea & trimmings – Vide we live well Enough, but cannot Eat Much without being sick.