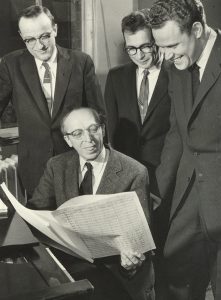 What is American Music? What does the idea of "American" music making mean for different University of Iowa artists and audiences?
In what ways have University of Iowa musicians, audiences, conductors, critics, and historians contributed to the musical identity of the United States? In what ways might they do so in the future?
The students of the Fall 2018 offering of the graduate musicology seminar in American music invite you to consider these questions as they relate to the place of American music in the past, present, and future of the University of Iowa School of Music.
The "Exploring Our Sounds" exhibit, which is on display throughout the Spring 2019 semester on the first floor of the Voxman Music Building, showcases our responses to these questions. Throughout the semester, we will be posting on the objects and themes of this exhibit in greater depth.
We hope you return to the blog and participate in "exploring our sounds."
---
Students Investigate: Deeper Dives into American Music Making at the University of Iowa
March 4: A Deeper Dive into Ernst Krenek by Lisa Mumme
March 12: A Deeper Dive into the Music of Maria Schneider by Toni LeFebvre
March 19: A Deeper Dive into the SUI concert of Copland compositions, March 5, 1958 by Jenna Sehmann
March 26: A Deeper Dive into H. S. Perkins's The Nightingale by C. A. Norling
April 2: Sounds from the Field – Anthony Burgess in Iowa City: How Clockwork Orange's Author Came to Write a Symphony for the University of Iowa by Dr. Nathan Platte
---
Planning Your Visit
Bring headphones and a mobile device so you can hear what you are reading about.


Where possible, we have provided

direct

access to the different traditions of American music making discussed in the form of a digital music playlist.

Examples were selected to further illustrate points in our exhibit text, and to encourage broader enjoyment of the diverse sounds and styles that make up the traditions of American music making at the University of Iowa.
The Exhibit Playlist can be accessed at https://bit.ly/2TAom3t, or by scannable QR code at the exhibit.
Look out for theme clusters: "Curriculums," "Student Musical Life," and "Composers."
Over the semester, we conducted individual studies of the displayed items, drawn from the Rita Benton Music Library collections, and then worked together to put our independent work in dialogue with that of our colleagues. The "Curriculums," "Student Musical Life," and "Composers" areas of the exhibit are the results of these collaborative efforts.
Be ready to explore further.
The dotted lines running throughout the exhibit are representative of the broader thematic connections that crisscross the different areas and aspects of the "Exploring Our Sounds" Exhibit. The expected and unexpected links that are made between "American" sounds, university programming, local community traditions, and more, should leave you thinking about the questions we asked above.