State University of Iowa Orchestra concert of Copland compositions, March 5, 1958
Represented by original concert program and picture of Himie Voxman and Aaron Copland from the composers 1958 visit to Iowa City
On March 5, 1958, Aaron Copland attended a concert by the State University of Iowa Symphony Orchestra as an honored guest. Copland's visit, culminating in this performance, reflected as much upon Copland's achievements as it did upon the achievements of American Music, and the musical achievements at the University of Iowa.
Copland's visit to the University was well received by students, faculty, and local residents. Attendance was at full capacity for the Symphony Orchestra concert as well as a lecture Copland gave titled "The Emergence of American Music." In this lecture, Copland detailed that the "Emergence School of American Music" was "in the running," implying that American Music could stand up to its European predecessors.1 This emergence that Copland referenced in his lecture is reflected in his own compositions performed by the SUI Symphony.
At this concert, the orchestra performed three works from a wide range of Copland's compositional style and time periods: The Suite from the Ballet Billy The Kid, Copland's Third Symphony, and a concert version of his opera The Tender Land. In a review by Donald Justice, the orchestra was praised for their performance, noting that Billy The Kid and Third Symphony were "two excellent performances."2 The performance of Copland's rarely performed opera The Tender Land was especially suitable for the composer's trip to the Midwest. The opera is set on a Midwest farm, making it particularly reflective of the lives and upbringings of many students and community members.3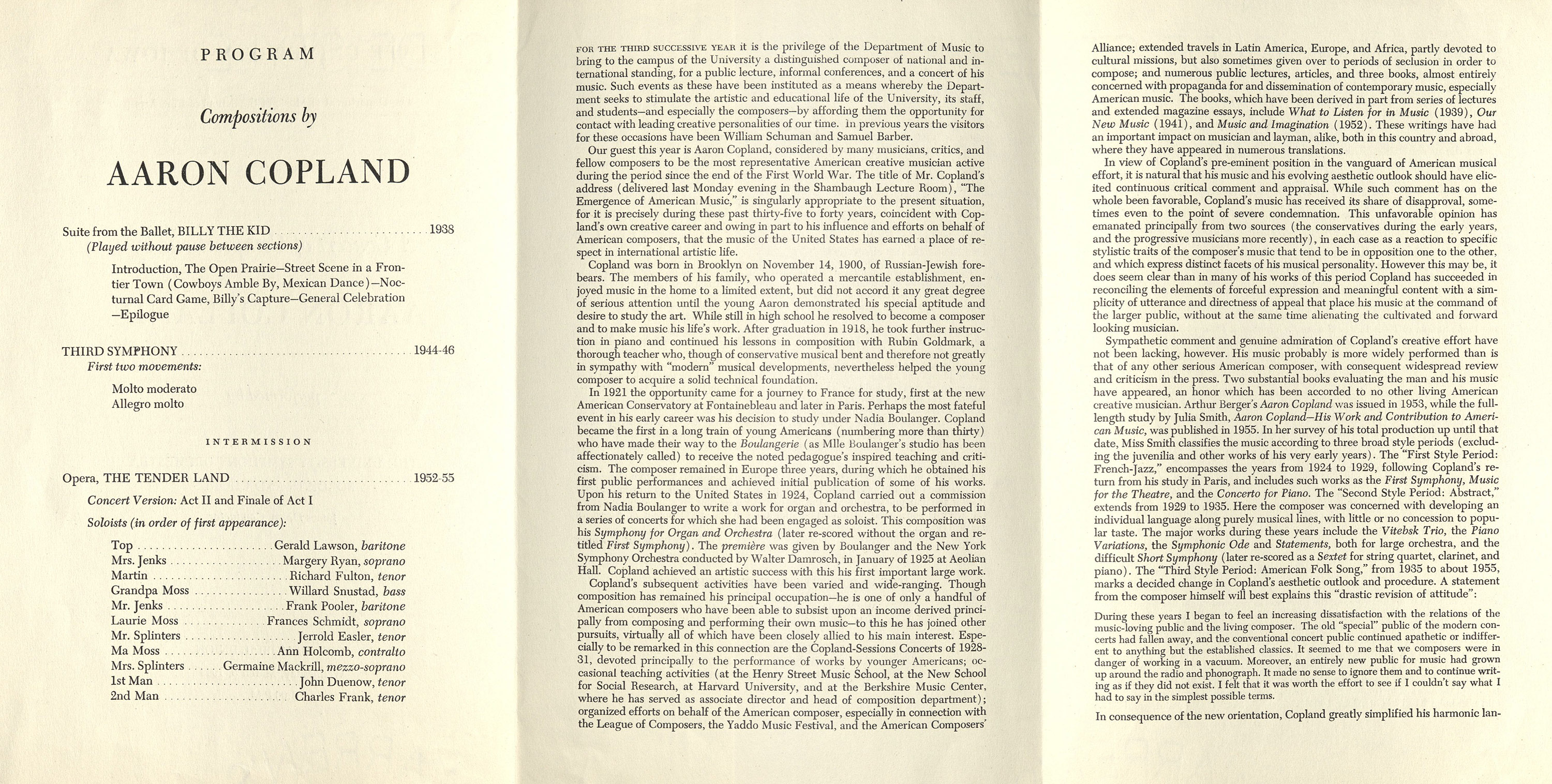 1 "Emergence School of Music In the Running: Copland," The Daily Iowan, March 4, 1958, http://dailyiowan.lib.uiowa.edu/DI/1958/di1958-03-04.pdf.
2 Justice, Donald, "Chasing Billy- Copland's Music- Pleases Audiences," The Daily Iowan, March 7, 1958, http://dailyiowan.lib.uiowa.edu/DI/1958/di1958-03-07.pdf.
3 Perlis, Vivian, "The Tender Land," Oxford Music Online, Grove Music Online, https://doi.org/10.1093/gmo/9781561592630.001.0001/ omo-9781561592630-e-5000905177. (accessed September 10, 2018).
---
About the Author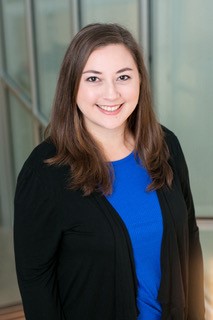 Oboist Jenna Sehmann is a performer and teacher currently located in Iowa City, IA. Ms. Sehmann serves as the oboe studio teacher at Cornell College (Mount Vernon, IA) and Mount Mercy University (Cedar Rapids, IA). She is also the Teaching Assistant for the oboe studio at the University of Iowa, where she is pursuing her Doctor of Musical Arts in performance and pedagogy under Dr. Courtney Miller.
She holds a Master of Music degree in oboe performance from the University of Cincinnati College-Conservatory of Music and a Bachelor of Music degree in both music performance and music industry from Eastern Kentucky University. Regionally, Jenna has performed with Orchestra Iowa, Dubuque Symphony, Dayton Philharmonic, Evansville Philharmonic, and the Bach Ensemble of St. Thomas. To learn more about Jenna, visit her website jennasehmann.com