JCL Features the Music of Maria Schneider (2000)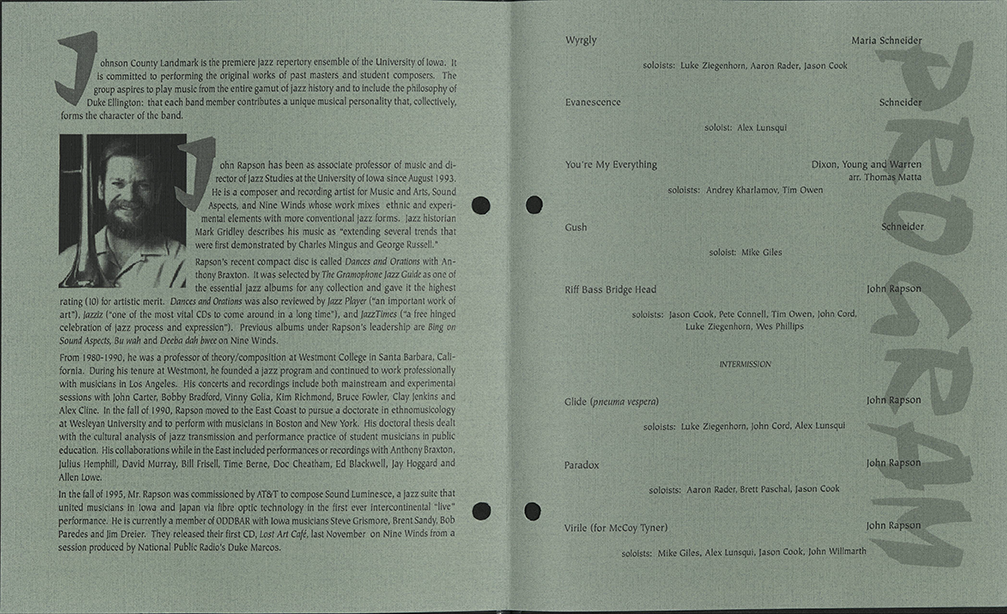 On April 26, 2000, Johnson County Landmark, the premiere big band of the University of Iowa, featured the music of band leader, John Rapson, and award-winning American jazz composer, Maria Schneider. Programmed were three pieces from Schneider's 1994 debut studio album, "Evanescence" – "Wrigly", "Evanescence", and "Gush".1 Not only does the programming of Maria Schneider's music display the jazz program's commitment to a meaningfully well-rounded education in jazz history for student musicians and audience members alike, but to highlight her compositions is to underscore the diversity of American music and its infinite aesthetic possibilities.
Listen to JCL performing "Wyrgly"

Maria Schneider
Since launching her career in the late 1980's, Maria Schneider has been drawn not to the conventional sound of the traditional American big band, but to orchestral colors, classical composition techniques, soloist-improvised bridges, and an emotional subtlety atypical to the accustomed big band sound.2 She has studied with and been mentored by two prominent names in American jazz history, Gil Evans and Bob Brookmeyer. These studies, combined with a unique vision for musical storytelling, have fostered Schneider's chart-topping masterpieces which defy categorization and alter the notion of what a modern American big band can sound like.3
Maria Schneider remains one of the most prominent pioneers for women in jazz. In a 2016 spotlight interview for JAZZed magazine, Schneider affirmed that she has never seen her gender as being relevant in terms of her music.4 Regardless, one cannot deny that she holds a position as a prominent female role model in a male-dominated genre that jazz performers and listeners of all ages and genders look to as an example of originality of voice and cutting-edge musicianship at its finest. In a professional musical outlet where women are broadly marginalized, Maria Schneider is a true luminary for women composers and for anyone looking to test the boundaries of tradition.
1 Alexander, Peter. "Music by John Rapson and Maria Schneider will be featured by JCL April 26." UI News Iowa City, Iowa), April 14, 2000.
2 Woolfe, Zachary. "Prairie Jazz Companion." New York Times (New York, New York), April 12, 2013.
3 "No boundaries: A daring composer defies categories." Economist (New York, New York), March 8, 2014.
4 "Maria Schneider – Music is About Life." JAZZed (Las Vegas, NV), May 20, 2016.
---
About the Author
Toni LeFebvre, originally from Bettendorf, IA, is an active trumpet player and music educator. She completed her undergraduate degree in Music Education at the University of Northern Iowa in 2014. She was most recently the Band Director at Okoboji High School from 2015 to 2017 before moving to Iowa City to pursue a Master's degree in Music Education at the University of Iowa, which she will complete May of 2019. In addition to her graduate studies, Toni has directed the Iowa City New Horizon's concert and jazz ensembles, and is the co-founder and leader of the Iowa Women's Jazz Orchestra, a big band comprised of women from across the state of Iowa which seeks to inspire young female musicians to find their voice in the jazz idiom. Upon completion of her Master's degree, she plans to return to the field of public education as a high school band director in Iowa.
Check out a profile of Toni in The Daily Iowan from March 11, 2019.