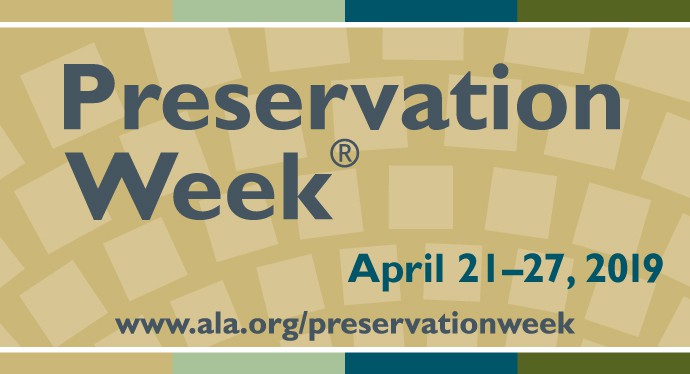 [ezcol_2third]
This week is Preservation Week, which is sponsored by the Association for Library Collections & Technical Services (ALCTS), a branch of the American Library Association (ALA). Preservation Week is an opportunity to learn about and take action to preserve collections. The theme for this year's celebration is "Preserving Your Family History" which emphasizes the importance of preserving the collections of families, individuals, and communities in addition to those in libraries, museums, and archives.
According to the Preservation Week website, "An estimated 1.3 billion items are at risk—in need of treatment to be stable enough for use, or in need of improved enclosures or environment to reduce the risk and rate of damage."
The 2019 Preservation Week Honorary Chair is Kenyatta D. Berry. Berry is a genealogist with a focus on African American genealogy and slave ancestral research. She will be presenting in one of this year's webinars. Free webinars from every year since 2010 can be found on the Preservation Week website, including three from our very own Nancy E. Kraft.
The website has other helpful information about taking care of personal media collections such as scrapbooks, home videos, photos, and more. Visit the website to learn more about how to participate in Preservation Week.
[/ezcol_2third] [ezcol_1third_end]
[/ezcol_1third_end]