About the Binding:
I have been making three-dimensional work in book form for over thirty years.
Rare book conservation was my profession that required knowledge of the history of binding and the skills to repair and sometimes rebind rare books.  The book/bound manuscript needed to be meticulously described and photographed, and a treatment proposal approved by the curator before any work would be carried out. The item's condition dictated what would be done to it and the less the better!  This intimate interaction with a historic object taught me what a book/bound manuscript was and the many techniques used historically. Through this dual career of conservator and artist, I found both parts needed and nourished each other.
My artists' books have always leaned toward traditional materials and book structures that have evolved over time in different cultures. They are never equal, but ebb and flow as discovery in one finds outlets in the other. This includes book structure as well as content.  Conservation required ethical decisions, but book arts allowed freedom to create strange or unusual things from a wider variety of materials (such as plastic,metal screen and sheets, or feathers/plant materials with ink, pencil and paint media).
Though I do sell works, it is not why I make them. I make them because I have to! Books happen because I'm thinking about something and working with my hands is the outlet. The books I make are meant to be handled,looked into, read, and operated.  I work drawing, painting and sometimes text into these one-of-a-kind books. It is best when all parts come together at once, but sometimes a blank book will be empty for years before being filled. Or the text and images come first and I have to find the right structure for them.
This artist's binding is an homage to parchment/vellum – a traditional bookbinding material. Several examples of parchment/vellum bindings by Mr. Anthony are illustrated in this catalog. The spine is flush at the tail and a tab is located at the spine head with a thread bookmark attached – a historic technique. The spine is goat vellum with diagonal long stitches attaching it to the textblock. The covers are a vintage, slightly tinted, handmade English water color paper. Samples of new and vintage vellum/parchment are stitched to the covers, like a sampler, to show the variety of this material. The catalog's paper covers are inserted inside the new cover turn-ins to stiffen the new covers.
Estimated Value: $500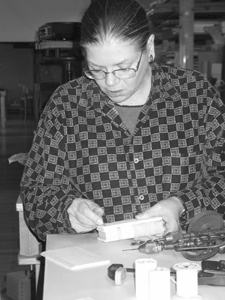 About the Artist:
Spitzmueller, a distinguished conservator and book artist, served as the James W. Needham Chief Conservator for Special Collections, Harvard University and Harvard College. She also has headed the rare book conservation program at the University of Iowa, and served as a conservator for the Library of Congress and the Newberry Library. Recognized for the technical excellence and historical sensitivity of her conservation treatments, her replicas of historical book structures and her artists' books have been widely exhibited at libraries and art galleries including the National Museum of Women in the Arts, New York Center for Book Arts, the Boston Athenaeum, Grolier Club, Art Institute of Chicago, the Bibliotheca Alexandrina in Egypt, and the Barbican Centre in London.
After earning a degree with distinction and highest honors at the University of Illinois, Chicago, Spitzmueller began studying bookbinding in 1976 with renowned book conservator Gary Frost. During the course of her career Spitzmueller also trained with Anthony Cains, director of conservation at Trinity College, Dublin; Tom Albro and Barbara Meier-Husby at the Library of Congress; Chicago book conservator William Anthony; and Paul Banks, architect and first director of the only degree-granting graduate program in library preservation and conservation in the U.S. In 1979, she received a National Endowment for the Humanities-sponsored fellowship in preservation and conservation hosted by Yale University. She also has received grants from the Kress Foundation and the National Museum Act to support studies in the U.S. and in England.
While at the University of Iowa in the Libraries Conservation Department, she secured a major grant from the Andrew W. Mellon Foundation to direct two, four-year apprenticeships in rare book conservation and taught a series of advanced conservation workshops that attracted conservators from throughout the United States.
In the School of Art and Art History at Iowa, Spitzmueller taught semester-long courses in historical book structure and other subjects. She also served as guest lecturer for the University of Iowa Center for the Book, School of Library and Information Science, and Museum Studies program.
She has lectured on a broad range of topics having to do with book history and conservation, ranging from theoretical (the aesthetics, ethics, and mechanics of book conservation) to historical and technical (book- and paper-making and conservation).
To bid on any of the bindings, please email us at lib-prescons@uiowa.edu. Bids will be accepted until the end of the silent auction, 7 pm CST on Thursday November 13th.