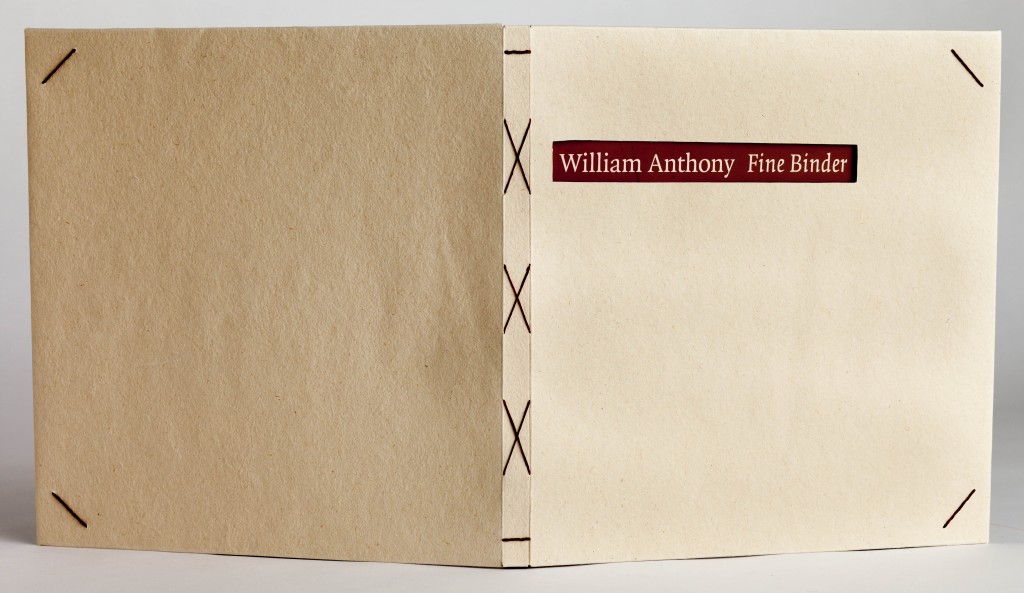 About the Binding:
The binding of the catalog is a long stitch sewing of the text block with a soft cover attached using Saltire and transverse twisted tackets. The corners of the covers also have twisted tackets. The cover paper is natural UICB flax case paper. The original covers of the printed catalog are inserted as end sheets and anchored by the corner tackets. A window is cut in the front cover to reveal the catalog title. Cover case paper was joined at the spine to create a reinforced double thickness and to make a sheet long enough to form the cover as one piece. The binding itself is completely non-adhesive.
Estimated Value: $150
Emily Martin has been making movable and/or sculptural artists books since the late 1970's. Her books are narrative sometimes autobiographical and make use of format as a metaphor for content. Currently she is exploring Shakespeare's tragedies. Emily Martin lives in Iowa City, Iowa, USA where she has her studio and also teaches at the University of Iowa Center for the Book. Her work is in public and private collections throughout the United States and internationally, including the Metropolitan Museum of Art, New York; The Victoria and Albert Museum, London; The Museum of Contemporary Art of Chicago; The Marvin and Ruth Sackner Archive of Concrete and Visual Poetry, Miami Beach, Florida; The Library of Congress and others.
To bid on any of the bindings, please email us at lib-prescons@uiowa.edu. Bids will be accepted until the end of the silent auction, 7 pm CST on Thursday November 13th.