Wednesday, May 9, 2012
We have conserved a number of record books from the Flood of 2008 for the Johnson County Historical Society.  Most of them have been pretty straight forward in the treatment that was needed.  We were so close to being finished with all of the record books when we came across a record book that hadn't been sewn, but needed to be rebound.
This meant we needed to double-fan or perfect bind the book.  This process uses adhesive to keep all the pages together.  It is the process used to bind most paperback books on the market today.  It is a fairly simple process but the sheer size of the record book made it a little difficult.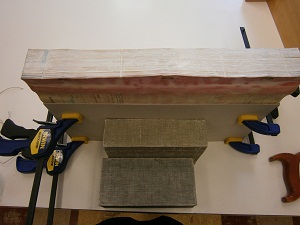 The record book in question is 18″ tall, 12″ wide and 3″ thick, too big to fit into any of our lying presses! Bill and I jogged the textblock together and using all four of our hands clamped the book together.  I then glued the textblock together and lined the spine.  We could then move onto casing the book in.