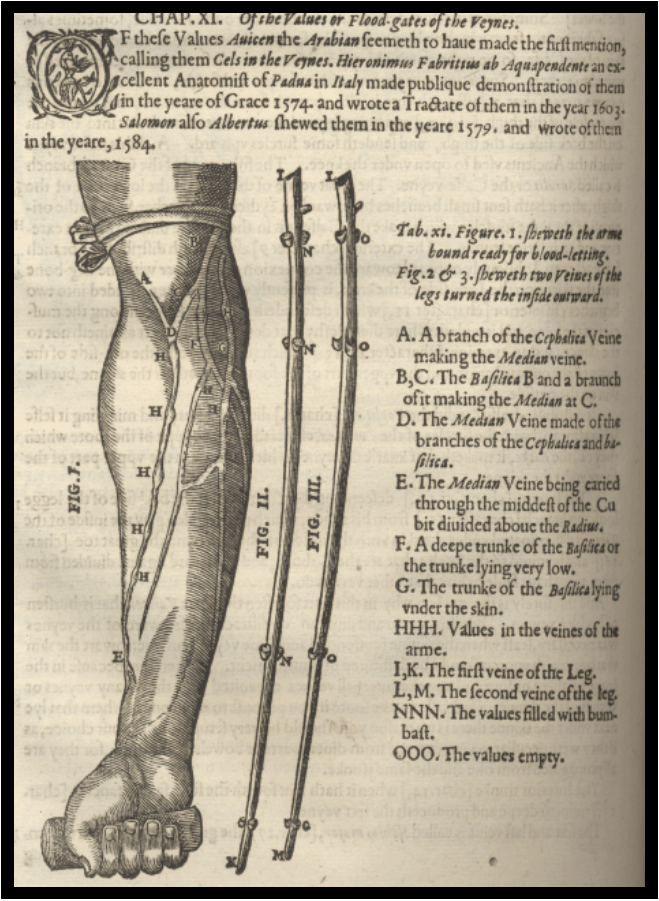 HELKIAH CROOKE (1576-1635). Mikrokosmographia [Greek title transliterated]: A description of the body of man. London: Printed by William Jaggard, 1615.
Crooke received his medical degree from Cambridge and was prone to be a quarrelsome individual of sometimes dubious character, especially when financial matters were involved. He had several clashes with London's College of Physicians over questions of ethical conduct.
The thirteen books of descriptive text were taken almost entirely from Bauhin's Theatrum anatomicum.  Crooke made no secret of the fact that he took his text and illustrations from Bauhin and other material from Du Laurens. In his opening "Preface to the Chyrurgeons" he states: "My present worke is for the most part out of Bauhine for the History, Figures, and the seuerall Authors quoted in his Margents. The Controuersies are most what out of Laurentius. . . ."
The College of Physicians were disturbed because the book was to be in English and they felt the illustrations dealing with generation, conception, and reproduction were indecent, though many were taken from Vesalius. The College was unsuccessful in its attempts to have the book suppressed or altered before publication. The male and pregnant female on the title page may be an expression of Crooke's defiance of their actions.
The book was the largest and most comprehensive English anatomy of its day, and was one of  the last English anatomies based on continental sources before the emergence of a truly English anatomical school.