Adding my graduate studies to my already packed schedule was not a decision I came to lightly. In addition to my studies at the University's School of Library Information and Sciences (SLIS), I'm also employed full-time as a Public Services Librarian. These past two years, fast as they seem in retrospect, was a journey into stepping out of my comfort zone and combining two of my favorite pastimes: creativity and libraries. The project I chose to document for my capstone work is a reflection of this amalgamation: archiving the artists' works that highlight the walls of my workplace, the North Liberty Library (NLL).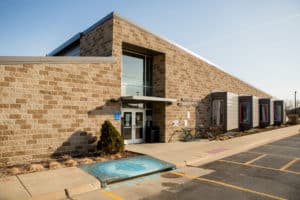 NLL is a rural public library that resides in the heart of North Liberty, Iowa (a 15-minute drive from the University of Iowa campus). Among its many eclectic features for its patrons – including a guinea pig, meeting rooms, and a collection of cake pans for borrowing) – is the art gallery along the library's corridor wall. This wide space has been home to many local artists over the past decade, giving our community's creatives a place to showcase their talent and gain new fans. It has been a welcome site for our patrons, some of whom visit us daily. However, we often hear from our featured artists that they wish there was a way for the exhibits to be accessible to those outside of our community. The need for a digital version of art wall sounded like the perfect focus for my capstone project.
I began the planning for this project in January 2023 by connecting with my capstone advisors, Nikki White and Mark Anderson (both with UI Studio). We discussed what a 'wish list' for the perfect platform for the exhibit would be and eventually decided upon Omeka. Throughout my SLIS studies, I've worked with Omeka so I was very familiar with the flow of the platform. I was also in luck that UI Studio offered their Omeka sandbox site for my use during the semester. This led to a broader discussion with NLL's IT Director, Chris Nelson. I included him in my second meeting with my capstone advisors a month later, which is when we decided that we would use the sandbox through the semester with plans to upload it to NLL's server after graduation.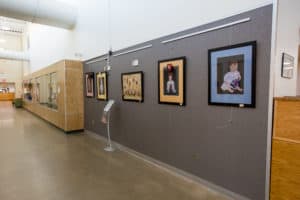 With logistics in place, I went on the hunt for photos of past artists who predated my time at the library. I also helped two new artists to the gallery (Kimberlee Rocca and Gabrielle Williams) with the installation of their works. In addition to our featured artists, I planned to include the everyday artwork we have adorning our library into the archive. My goal with this project is to make this an all0inclusive look at how much art is revered and appreciated with the public library space. I look forward to updating the blog with its results by mid-May.