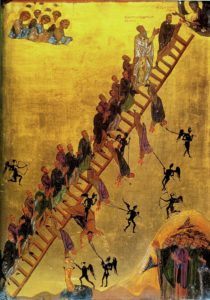 One of my favorite devotional icons is known as the Ladder of Virtue. In Orthodox Churches, the image of devotees striving to climb a ladder as saintly onlookers cheer them on from clouds high above and demons attempt to pull them down with pitchforks has long appealed to me as an metaphor for work. I often organize my thoughts on a project through this visual: what angels are pushing me forward, what demons are pulling me down, and what are the next few rungs to climb that I can see? It helps, I suppose, that this image is tied to a book related to my own studies in late ancient monasticism and echoes through a text known as the Book of Steps.
I have continued my project mapping Syriac books from the summer as my Capstone Project this fall. With help from the Studio, the map has found an online home and initial draft mapping the places where Biblical manuscripts in Syriac have records of existing. These hand written Bibles (or selections of books) have marks and notes indicating where they've been, and sometimes when. If my ladder of progress is a version of this map that is full and ready, the next rungs of that ascent are steep but exciting.
Right now the drop-down menus of manuscripts only tell the viewer the British Library's shelfmark, and a single book may have multiple points. There is value in this map's ability to show the contours of settlements and geography of monastic settlements and cities. But what if we could animate in some way the movement of those books, drawing lines of connection that can illustrate the journey a single book took before it ended up in a museum library?
Thanks to Jay Bowen, we have begun to map just such a movement. The process raises new questions to address, though. Right now, the map clusters nearby items into an area. How can we be sure books connect without collapsing into those points? Can we show what kind of book is present, especially as we start entering new books of philosophy, hymns, and history? Does adding these lines make the already dense map harder or impossible to read?
So far, we have decided to proceed with two maps; one will show the movement of books with lines and points of connection, and one will mark all known places. The next steps on the ladder are the addition of new data to continue adding data to the story of these maps, and working through how to best tell a story that spans centuries. Making the story of these books readable is an important step. Through this, the pull of new avenues or interests is a continual challenge.
Like the demons of the icon, ideas like "What if we started over but made a database first this time," or "But why not spend all day just entering data," remain a recurring voice. Maintaining balance and focus on that ladder is a difficult undertaking, but with the encouragement of better angels like project supervisors and peers, I haven't fallen off yet.
-Peter Miller