The University of Iowa Graduate College and the UI Libraries Digital Scholarship & Publishing Studio are excited to announce that 13 graduate students have been selected for the 2021 Studio Summer Fellowship program. These individuals will soon take part in an 8-week course that provides mentored digital scholarship experience, as well as training in skills and tools they will use as they pursue innovative ways of thinking about and sharing their creative endeavors.
As the COVID-19 pandemic continues, the fellowship will reflect similar safety precautions taken during last summer's session. While we may not physically be able to occupy the same space, we're confident that this program will still provide a great opportunity to collaborate with students and their projects. Read more about what the students plan to be working on in the coming months below.
Lisa Covington, PhD Candidate, Sociology of Education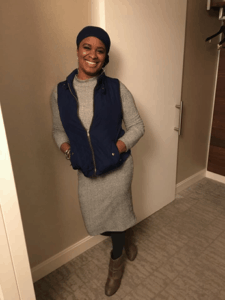 This summer, Lisa Covington plans to begin the development of an interdisciplinary digital humanity archive project which will serve as the digital chapter for her dissertation. This project will also serve as a unique culturally relevant, archive and resource for teachers, scholars, and filmmakers to identify films dedicated to Black youth culture, as no such resource exists in the United States.
Oriette D'Angelo, MFA Student, Spanish Creative Writing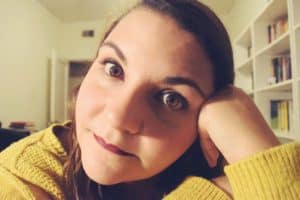 As a Studio Fellow, Oriette plans to create and design the project "Voces en Iowa," a website that promotes and archives creative work in Spanish by writers based in Iowa City. Since 2019, she has taken photographs and conducted interviews with Spanish-speaking writers who lived in Iowa City while completing their MFAs or participating in the International Writing Program (IWP). The digital project will draw together their creative voices and make their work more easily available to the University and local communities as well as to the reading public in Latin America and Spain. She plans to create a website that would be part of the UI Libraries digital archives, a place that would represent an important legacy of the Spanish-speaking writers who found a place to develop their literary universes in Iowa City.
Liz Felix, PhD Student, Sociology
This summer, Liz Felix will be working on a project that explores how people implicitly associate certain health conditions (e.g., depression) with stigmatizing concepts (e.g., being violent). She will create network visualizations of health perceptions, presented along with stereotype-disconfirming information, that can act as an effective tool for teaching about and countering mental health stigma.
Ryan Kangail, MFA Student, Book Arts
During the summer, Ryan Kangail plans to create and disseminate dynamic artists' book video models. He plans to concentrate a majority of his work on AV production, which may involve equipment tutorials, lighting and staging, filming and photography, and post-production editing.
Jeremy Kingsbury, PhD Student, History
Jeremy Kingsbury's goal is to work on a public-facing representation of his dissertation, which discusses the Two-Spirit (Indigenous LGBTQ) history of the Anishinaabe. He will begin a podcast miniseries based on his research, which will draw listeners' attention to newly available digital resources for understanding Gender, Sexuality or Two-Spirit History.
Jessie Kraemer, MFA Student, Creative Nonfiction Writing
This summer, Jessie Kraemer plans to use the fellowship to develop hard digital skills, such as Photoshop and In-Design to produce short-form, micro-essays and one-panel comics as a lead-up to her thesis taking the form of a collection of illustrated essays.
Rachel Lazar, MFA Student, Film & Video Production
Rachel intends to build a website that will allow visitors to explore the life and work of the poet Lydia Tomkiw. The fellowship this summer will allow her to focus on editing interview footage, collaborating with an illustrator, and writing.
Peter Miller, PhD Student, Religious Studies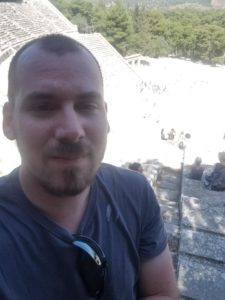 Peter's project aims to build an interactive network and map that will help to chart the production, movement, editing, and readership of manuscripts and their notes scribbled in the margins from Syriac monasteries. This project will help to reconstruct pieces of the lives of otherwise forgotten Christian monks and scribes in Mesopotamia and Egypt and build our understanding of the connections between monasteries across the Late Ancient and Islamic world.
C.A. Norling, PhD Student, Music
Building on the archival research of his ongoing dissertation work, Norling's fellowship project will being the process of mapping operatic performances on the Redpath chautauqua circuits in the early-twentieth century. Supported by the University of Iowa's extensive Redpath Chautauqua Collections, this project aims to create digital maps of related chautauqua-circuit programs that will support a potential online tool for public and scholastic engagement.
Gabriel Sánchez Porras, DMA Student, Music
During this summer, Gabriel will be working on a project focused on the complexity of the Costa Rican national identity as expressed through music. The main goal is to create a series of video essays about Costa Rican concert music in the 20th century, and a digital timeline that integrates the information covered on the videos. This content will serve as a framework for their final D.M.A. recording project, focused on music for concert saxophone by Costa Rican composers.
Kathleen Shaughnessy, PhD Student, English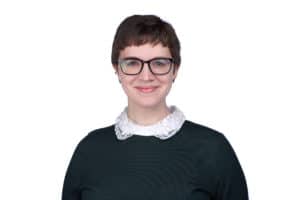 Kathleen will be building an online exhibit tentatively titled "Dispatches from the Cockney School: The Romantics for Our Time" that utilizes our Special Collections' Leigh Hunt Collection to address how a literary social circle of two hundred years ago experienced and articulated issues of journalism under threat, the constant specter of epidemics, and socio-political upheaval that we are currently grappling with.
Guadalupe Donají Zavaleta Vega, MFA Student, Spanish Creative Writing
During this Fellowship, she plans to explore a digital approach to her narrative project, a short story collection inspired by coffee plantations in Pluma Hidalgo, Oaxaca, México. The main goal is to create a story map that portrays Pluma Hidalgo's foundation. This can signify drawing attention to the living conditions of the plantations: from the fascinating quotidian life to the dangers of work exploitation and machismo related violence. Furthermore, it will allow to set the basis for a narrative universe, from the perspective of women that have entangled their lives with coffee plants.
Hao Zhou, MFA Student, Film and Video Production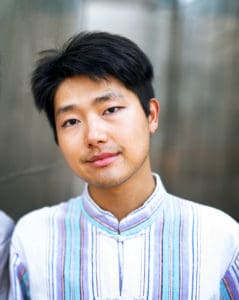 His project will examine the public representation of queer sexualities and genders in contemporary China, with the goal developing a film/expanded-media artwork that responds to my research. The materials for this artist response will include digital images, video (including fiction), and news media as well as their original interpretative video content.