For my DH Capstone semester, I am working on the usability and clarity for a website about manuscripts. It started here and now looks like this.
The site is an outlet for materials discussed in the 2016 Mellon-Sawyer Seminar, "Cultural and Textual Exchanges: The Manuscript Across Pre-Modern Eurasia." You may find information on the seminar here and here.
2016 Mellon Sawyer Seminar in UI Library Special Collections
The seminar led the development of Historical Perspectives GE course covering manuscript traditions and technology from Japan to Ireland, offered last Spring (2019) as JPNS:2127/CLSA:2127 taught by Profs. Kendra Strand and Paul Dilley.
The website is an effort to bring the cross-discipline approach of the seminar and course to a wider audience so that specialists, enthusiasts, and beginners of various manuscript fields could explore similarities and differences over distances in time and geography.
I am working on this project as part of a team, led by Prof. Dilley. The bones of the layout were developed by Ryan M. Horne for the BAM (Big Ancient Mediterranean) project . The Digital Scholarship & Publishing Studio's Matthew Butler and Noah Anderson , who graduated from UI last Spring with a B.S. in Computer Science and a B.A. in Classical Languages, built the php database and API for the manuscripts. The majority of the database has been entered by Prof. Dilley along with contributions from Daphne Becker, Maya Amjadi, Anne Fish, and Mohamad Bin Mohdhasli.
Early in the semester, I was paired with my Studio mentor, Nikki White, who had guided me through my 2018 Digital Scholarship Fellowship working on WOAH (you will probably notice that I re-purposed much of that work for the manuscripts). She offers a wealth of knowledge in addition to excellent guidance and feedback as I stumble through the terrain of website development and design. After working through some of the features of the site, she asked me to define my goals and create a list of objectives for the semester.
Goals:
functions

rework filter display/navigation

partial lists for the 4 categories are visible to begin and are expandable

include map color controls alongside filter controls rather separate tab

move time slider filter to top of the page

condense two sliders into one with two handles

coordinate datatable and map and popup/right hand panel

hover should highlight point and entry in the table

and other way round

popup on hover – right hand panel on click?

clicking should flag a change in the right hand panel

formats

[done]

reposition datatables

updated 'witness table' to use jquery table

further customized to handle the large text boxes

ellipses with hover for full and download includes full text

update button appearances

work on color pallete for map points

[done] stripes as possible colors

deal with CSS trouble spots
This also included some 'wireframing' and my learning what that means (it is an exercise in website layout with the most basic representation of components and functions, kind of like an outline). I tried paper first,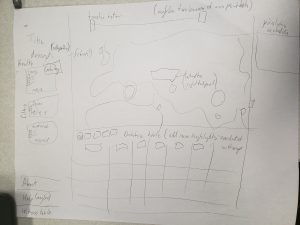 and then was introduced to some free online tools.
With a couple steps completed, feel free to let me know how I am progressing – edward-keogh@uiowa.edu.
-Ed Keogh