The importance of public art in American culture cannot be underestimated. It resides in public spaces as occasionally benign, sometimes celebrated, and at other times, downright inflammatory. Public art has the power to bring communities together and also has the power to divide them. It has the power to suspend moments in time and cement memories for all to see. For this project I have chosen to focus solely on athletic statuary as a distinct facet of public art and specifically I want to investigate the role of these statues in American culture.
As a summer fellow at the Studio I am creating a digital project that aims to map the locations of various statuary depictions of athletes. The mapping project will also include visuals of each statue, its exact latitude and longitude, the year it was dedicated, and a small description of the athlete who is being depicted. The ultimate goal of this project is to engage themes of public art, bodies, space, and memory and how all of these notions converge through statues.
When I began to conceive this project I wanted to give myself guidelines and parameters as to what counted as athletic statuary. The various ways in which athletes have been remembered in public spaces has ranged from plaques at stadiums, to the renaming of parks and arenas in their honor, to simply retiring their jerseys. For this project I wanted to focus completely on a specific area of memorialization and with that I needed to craft guidelines for the things I would ultimately count as athletic statuary. During my first week at the Studio I spent time creating these boundaries and ultimately decided that the statues I put on the map must depict athlete's bodies or body parts and they must reside outdoors. I decided to exclude coaches and other athletic personnel from my project. I aimed to make these distinctions to help myself narrow down the potential options, but also to emphasize the importance of the bodies of athletes in sport as well the importance of their bodies when commemorating them.
Upon entering the Studio and starting work on my project I have already greatly expanded the scope of my project. I originally intended to include anywhere from 75-100 statues, with the hope that I would be able to locate that many and I am now up to 135 statues and counting. The larger number of statues has helped me to not only fill in my map more than I thought I would, but it has also helped me to begin to see some larger patterns within the commemoration of athletes. In addition to the number of statues, I have also added a time element to my map. I was able to find many of the dates that these statues were dedicated and where these original dedications took place. This has been important because it has offered an insight into the popularity of such works as well as provided a larger context for athlete's inclusion within the broader umbrella of public art. The newest addition to my ever-changing project has been a WordPress site that will be attached to my map. This site will include longer narratives of the athletes who are depicted, their importance in a larger cultural context, and the importance of the placement and location of their commemorative statues. I think this decision to add a WordPress site was so important because it has given me the freedom to contextualize my project that I did not think was possible with a mapping project.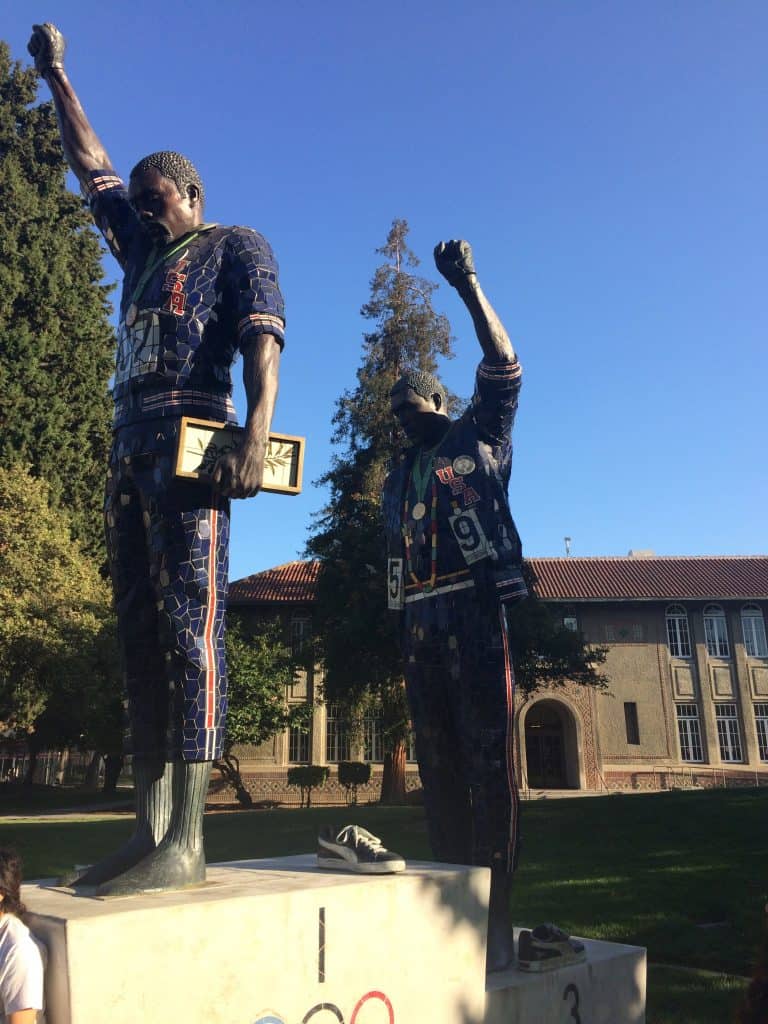 With the remaining weeks of the summer fellowship I hope to be able to further adjust my project and continue to add more and more detail to my map and associated WordPress site. I also hope to be able to gain a deeper understanding of the digital humanities as a whole and how best to integrate this sort of technology based work into my more traditional understandings of scholarship.
-Ashley Loup