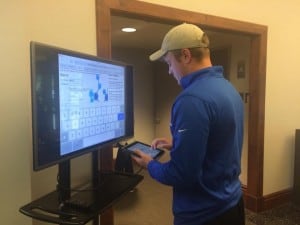 Three large screen monitors on rolling carts are now available for use at the Sciences Library. Simply move one to your favorite study spot and plug in your device!
Available inputs:
We also have Apple adapters available for checkout at the desk:
Mini DVI to HDMI (for Macbooks)
Lightning to VGA (for new iPads/iPhones/iPods)
30-pin to HDMI and VGA (for old iPads/iPhones/iPods)
These monitors are ideal for group work and watching videos but can be used in other ways as well. Please try them out and let us know what you think!