Hello, new & returning Hawkeyes!
Visit the Sciences Library this week to find a comfortable study spot, enjoy free coffee, and meet our staff! Our new exhibit showcases our staff, what they can do for you, and what they would like you to know about them! Stop by to find out who likes Quantum Darwinism, who likes photographing birds, who likes running marathons, and more! We would love to meet you and help you use the many services that the UI Libraries has to offer.
Here are 6 tips to help you get started!
You can meet with a librarian in a one-on-one research consultation to help you find books and articles that you need for a paper or project
You can search InfoHawk+ to find out what the UI Libraries has that you can use online or check out & take home, which includes print books, ebooks, newspapers, journals, and magazines (both print and online), DVDs and streaming videos
You can request that the library purchase something that we don't have, or request to borrow something that we don't have through Interlibrary Loan. (It's free!)
You can access all of our ebooks, electronic journal articles, streaming videos, and online resources from off-campus by logging in with your HawkID
You can ask librarians for help about research and using the library whenever you need it through chat, email, in-person, or by phone!
You can hang out with our mascot Chauncey the gorilla!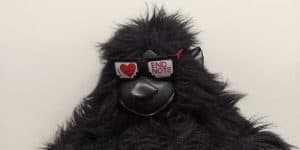 Best wishes for a great semester! Go Hawks!