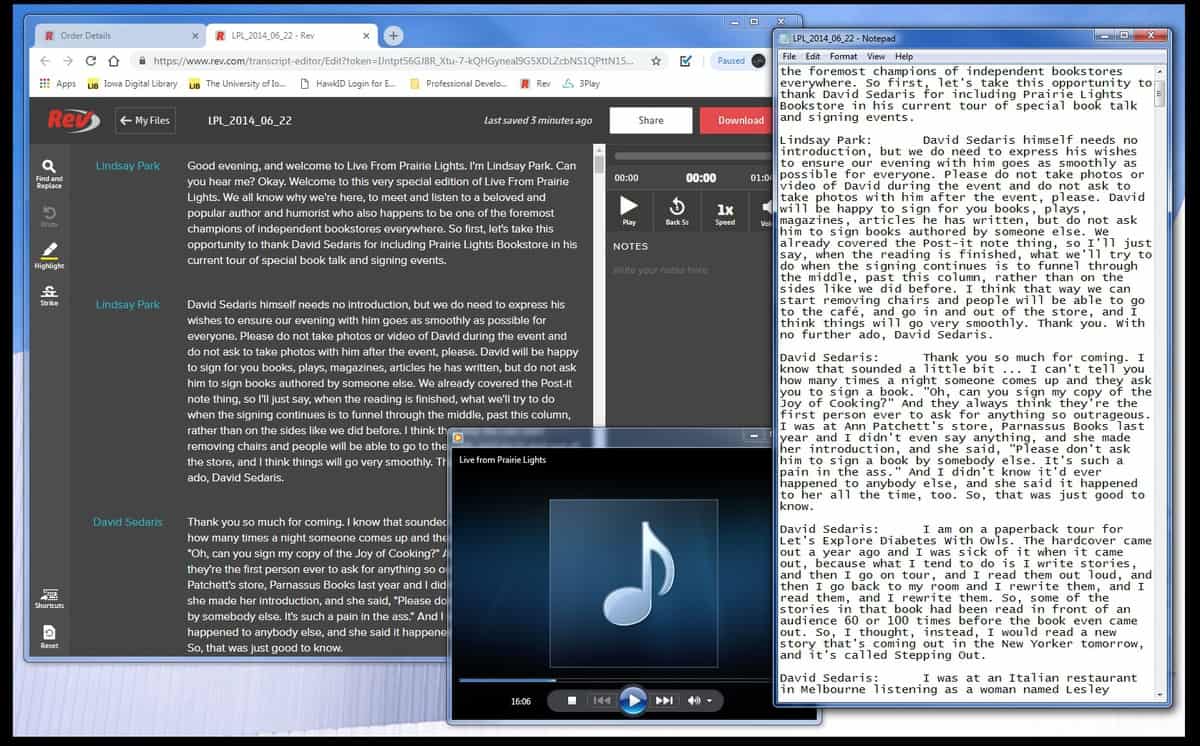 [ezcol_2third] Brad Ferrier, digital projects librarian, coordinates transcription and caption for Audio/Video (A/V) materials in the library's collection. "Transcription is converting the speech in an audio file into a written plain text document. Caption is converting the speech in a video file into text which is synced and appears on-screen with the video," Ferrier explains.
Incoming A/V materials are transcribed and captioned by Library Assistant Joyce Barker. Materials already in digital storage are sent to Rev, which is a transcription, caption, and translation service. When the transcripts and captions are returned, Ferrier helps conduct a quality check. Then the materials are sent on to Digital Preservation Librarian Dan Johnson. Johnson puts the transcripts and captions in long-term digital storage and either posts them to the Digital Library or sends them to whoever requested the project.
Ferrier has worked with A/V from Special Collections, University Archives, Iowa Women's Archive, and the Music Library. As one of his projects, he processed transcripts of readings from the Live from Prairie Lights series, including of David Sedaris' 2014 reading.
Transcribing/captioning audio and video has many benefits. "In addition to making the material usable for the deaf and hard of hearing, it can aid in understanding for non-native speakers, it can be used in noisy or distracting environments where audio cannot be played," says Ferrier. This important work also makes the A/V material more searchable. [/ezcol_2third] [ezcol_1third_end]
[/ezcol_1third_end]