As the University of Iowa community, especially the student population, returns to work, after the holidays we are reminded of the pivotal role students are in fulfilling the University's mission. We here at the University of Iowa Libraries' Preservation and Conservation Department are no different, and frankly we really missed our student workers over Winter Break. With our collected sigh of relief to see our diligent student employees coming back, we are extremely pleased that the Conservation Lab's Dong Dong is the recipient of the Graduate Student Employee Academic Enrichment Award! To have yet another student employee win an award is great honor to the department and a true testament to the strength of our students. It comes with great pleasure to congratulate Dong on her scholarship and on this momentous occasion we also wanted to help people get know her, what she does in the Conservation Lab, and appreciate all this fantastic student has to offer us, the library, and the University of Iowa community as a whole.
Describing Dong's work, Conservator Giselle Simon said, "She started as Assistant in Book Repair with Julie Smith in 2017. (Time flies!). She's currently completing her MFA at UICB and is focusing on an artist book project for her thesis. She has an affinity for conservation work, its focus and attention to detail. She naturally understands the materials we use in treatment and these things crossover into her artist book work. Dong works mostly on Special Collections materials, which could include complex repair treatments on book structures and substrate (paper or text block), cleaning and constructing enclosures (custom box-making). She is currently working on the Smith Miniature Collection, so is having to do these kinds of repairs on a much smaller scale."
We were able to ask Dong some questions and she was only too happy to oblige with some thoughtful answers…
What is your graduate program of study?
Center for the Book.
Where and when did you graduate from college?
I graduated in 2012 from Guangdong University of Finance in Guangzhou, China.
What did you major in?
I majored in Chinese Literature (media studies track).
Why did you choose to pursue an advanced degree in your chosen field?
I did my MA in mass communications in England. Being an international student who was interested in Western cultures, one of the most intriguing subjects to me was cultural hybridization. After graduation I worked as an editor for a cultural magazine, and got very curious about the materiality of the book. When I found that there is a program that studies not only the materiality of the book, but also the making of it, and using the book as a medium of creative expression, I thought it would be the bridge that ties my interests together, so I decided to study book arts at the University of Iowa Center for the Book.
How did you come to your position in the conservation lab?
I learned about book conservation in the Book Arts program. And I applied for the position as a student assistant in the book repair unit and worked there for a year. I learned so much working with circulating books and materials, which afforded me clarity to my professional goals to work as a book conservator. So I applied immediately when I learned that there was an opening for student technician in the conservation lab.
What has surprised you the most about working at the library?
It surprised me how accommodating it is to work as a student employee in a library. For example, the conservator and the staff in the conservation lab are always open to teach students new treatment methods, they also encourage us to practice and experiment. It is not just about working, but also about learning. I also find the library to be very accommodating to people who visit the library. The conservation lab often assists students and classes from different departments for book related researches, we also show visitors how the lab works, therefore building a community that loves and values the book.
What is the most interesting or weird thing you have come across?
Last semester I made an enclosure for a movable atlas from 1874 by G.J. Witkowski that shows the structure and functions of the brain, the cerebellum, and medulla oblongata. The movable parts are very intricate and well crafted. It was so fun to discover layers after layers and look into the brain through a drawing from the 19th century.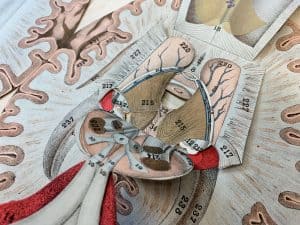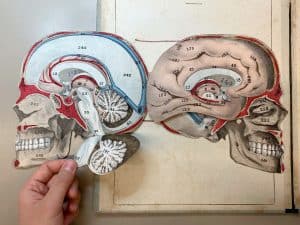 How do you think working in the conservation lab will impact your future?
Working in the book repair unit then in the conservation lab allowed me to gain hands-on experience and to hone my craftsmanship as a bookbinder; it also expanded my exposure to both circulating and non-circulating books and materials. I learned not only technical repairing skills, but also how to make treatment decisions regarding different materials, and how to work with people from small to large projects. These are important skills that I could carry to the professional world as I work my way to be a book conservator.
When you are not at work or class what are you most likely to be doing?
I am trying to get better at photography recently, so I bring my camera with me everywhere and look for interesting things to photograph. I also like to go out for walks and hikes. But most days I enjoy staying home alone reading or watching movies.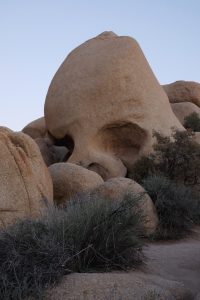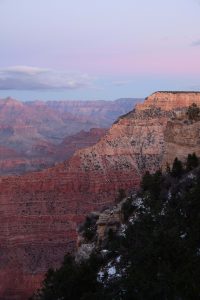 What was the last movie you saw?
I saw The Guernsey Literary and Potato Peel Pie Society on a plane and it was a nice way to start a trip.
Since you work at a library here's your obligatory book question: what are your 5 desert island books?
I would bring One Hundred Years of Solitude by Gabriel García Márquez, Last Evenings on Earth by Roberto Bolaño, The End (尽头) by Tang Nuo (唐诺)(I read all of his books repeatedly, too bad there's no English versions), Legend of a Suicide by David Vann, and Primeval and Other Times by Olga Tokarczuk.
The Preservation and Conservation Department are delighted to congratulate Dong with her momentous achievement, and we eagerly anticipate seeing what this gifted student does in the future. With that, her supervisor Giselle can have the last word, "Dong's just a delight to have in the lab. She has a generous spirit and she laughs at all my jokes!"