Tuesday, August 16, 2016
Submitted by Katarzyna Bator and Bailey Kinsky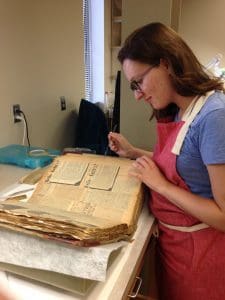 Our second project this summer is assisting with the treatment of several scrapbooks from the Keith Albee collection. Our work was being overseen by Candida Pagan, Project Conservator. The goal for our treatment is to stabilize the delicate structures for digitization. Picture 1 shows Kate examining the stability of the pages.
The Keith Albee collection includes a large number of scrapbooks that contain news articles, reviews, and programs from the Albee Theater in Rhode Island in the first half of the 20th century. To put it in better context, while examining Scrapbook #78, we found several pages dedicated to Ms. Fanny Brice, a famous vaudeville actress who was famously portrayed by Barbra Streisand in the 1968 musical, Funny Girl.
Most of the work needed for the scrapbooks included flattening of creases, removal of loose items, and repair to
the leather corners of the cover. Any loose items were placed in folders marked with the location within the book they came from so that they can be properly included during digitization.