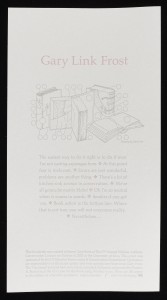 The second annual William Anthony Conservation Lecture was held on the the 8th of October, 2015.  Gary Frost, Conservator Emeritus and instructor of book conservation at SUNY Buffalo spoke about the history of bookbinding and the University of Iowa Conservation Department's bookbinding model collection which was the creation of the lecture's namesake.  The collection has grown into an invaluable teaching tool and asset to the conservation department and the University of Iowa Center for the Book.
Mr. Frost served as the University of Iowa Libraries' conservator from 1999 to 2011.  Mr. Frost is credited with championing the teaching role of the conservation lab and its staff, a distinction of which the department still prides itself.
Gary Frost is a book conservator and book arts educator. His career includes faculty positions at Columbia University, University of Texas at Austin and University of Iowa. He is currently Conservator Emeritus, University of Iowa Libraries. Gary has been awarded the Banks and Harris Award of the American Library Association and the Lifetime Award of the Guild of Book Workers. He is a Fellow of the American Institute for Conservation.
For those who could not make the lecture, a video of the event is forthcoming, and details will be posted to Preservation Beat as available.