Thursday, April 30, 2015
It really is a small world. As a volunteer for the AIC-CERT Disaster Response hotline, I had a call with a question about soot drifting in from a fire a couple doors down. On further inquiry, I discovered that the caller was from Traer, Iowa, only 90 miles away. Rather than trying to explain how to go about cleaning soot over the phone, we agreed that an on-site visit would be best.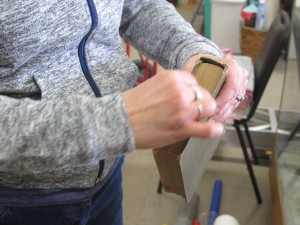 When our conservator Giselle Simón and I met with staff at the Traer Historical Museum, we were much relieved to see that the dusting of soot was very minor. We discussed cleaning techniques and strategies for organizing the volunteer cleaning session they were planning. Giselle demonstrated how to use an absorene dry cleaning sponge and a microfiber preservation quality dusting fabric cloth. We encouraged them to purchase a Nilfik HEPA vacuum cleaner and recommended supplies. They sent us a note that they did make the recommended purchases and are ready to start cleaning.