Thursday, September 18, 2014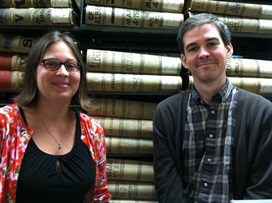 The UI Libraries Preservation & Conservation department would like to welcome two new(ish) staff members, Justin Baumgartner and Elizabeth Stone. They join us as members of the Keith/Albee project team. They will be working together, along with other UI Libraries staff, to stabilize and digitize the Keith/Albee collection. Both Justin and Elizabeth are University of Iowa graduates who are no strangers to employment at the UI Libraries.
Elizabeth Stone started on July 21, 2014 as the Keith/Albee Project Conservator. She is a recent graduate of the University of Iowa Center for the Book where she studied bookbinding, letterpress printing, and book history. As a student, she worked in Preservation & Conservation salvaging flood-damaged items from the National Czech & Slovak Museum & Library and the African American Museum of Iowa.
Justin Baumgartner started on July 22, 2014 as the Keith/Albee Digital Project Librarian. He is a recent graduate of the University of Iowa School of Library & Information Science. As a student, he worked in the UI Libraries Special Collections & University Archives and interned for the Digital History Project at the Iowa City Public Library.
The duo will shepherd 125-150 oversize scrapbooks through conservation and digitization workflows during the next three years. Visit the growing digital collection at digital.lib.uiowa.edu/keithalbee .
The Keith/Albee project is a three-year project to stabilize, digitize, and provide online access to the Keith/Albee collection which documents the activity of a prominent vaudeville theater company through more than 40 years of business. The records chronicle the expansion of the Keith/Albee circuit, changes in its leadership, and the eventual decline of vaudeville.
The Keith/Albee Project has been made possible in part by a major grant from the National Endowment for the Humanities: Exploring the human endeavor.